Tomatoes, eggs, apples, mushrooms, honey--more and more of these these foods are being purchased by Oberlin students from local farmers. For nearly a decade, Oberlin's Student Co-op Association has been part of a nationwide effort to move away from giant wholesale food distributors.
Not everyone believes that taller is better; Professor Andrew Bongiorno's May basket; John Service takes tea memorably with student; Two views of the ultimate experience at Oberlin; Back to Darwin; Alumna seeks The Next Thing


Oberlin's search for two new deans is rewarded; Oberlin regains title as City of Bikes; Student uses Memorial Arch to create new memories


A recent graduate muses about the collective personality of Oberlin students
A Liberal Education: How it can work
Seven alumni who have distinguished themselves in their own fields return to the Oberlin campus to share their expertise with students.



AUGUST 1999 VOL. 95 NO. 2
F E A T U R E S
Committed students, members of OSCA, find ways to make the most of the area's farm crops while making co-op dining an extraordinary delight.
BY ADAM KOWIT '01
An alumna recalls the joys and bumpy moments of living together with a cluster of classmates in London under the gentle care of Gwyneth Love.
BY BETHANY SCHNEIDER '93
A look at six alumni who chose the road less traveled as theircareer interests led them to Hollywood, to clownship at achildren's hospital, to international politics, to soothing troubled horses, or other professions not readily associated with a liberal education background.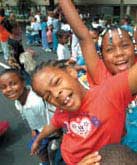 Richard Baron '64 was an Oberlin student with a strong history of community service. Since the day he graduated, he has been righting the wrongs he witnessed in blighted neighborhoods as a student teacher. He just can't seem to stop bringing joy and dignity to the people he sets out to help.
BY ANNE KESSEN LOWELL '81