ALUMNI MAGAZINE
AUGUST 1999
Oberlin's Co-ops Feast Upon Local Foods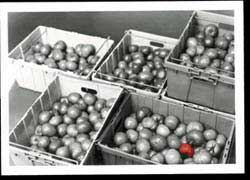 On a grey, rainy Friday afternoon, an old Dodge pickup truck trundled and bounced its way over the muddy dirt roads a few miles south of Oberlin. Matt Green, the driver, tried to keep the ride smooth, but that was impossible without reducing the truck to a crawl. Matt was one of the two food pickers in the truck, which was making its weekly round through Lorain County to collect produce from local farmers for Oberlin's Student Co-op Association (OSCA). I, the third passenger, was along for the ride.
Suspicious noises would occasionally attract our attention, and someone would wince and turn around, hoping it wasn't the smashing of any of the several hundred eggs which sat precariously in wet cardboard boxes under an ineffective tarp.
We'd picked up the eggs and a set of fruit pies from Joe Keim, an Amish farmer from Sullivan, Ohio. Standing in the shed by his farmhouse with thick denim clothes and a heavy beard, he'd smiled at us, suggesting we save the eggs until the end of our trip. We'd already collected goat cheese from Ann Hauser, who keeps a small farm, but we still had two stops left.
The rock that should have been securing our tarp fell with a crash. Roberta Reynolds, the other food-picker, jumped. Matt gritted his teeth and kept on driving.
So it goes when Oberlin students buy right from the farm. The path of the local-foods lifestyle is a little bumpy, a lot dirty, somewhat uncertain, but generally enjoyable. "Local produce can be differently shaped than what you get from Lo Presti's, OSCA's wholesale distributor," says local-foods coordinator Tori Johnson. The carrots are gnomish and stumpy, each ending in two or three short, twisted tips. "We get these humongous leeks from one Amish farmer," says Ellen Kittredge, the other coordinator. The mushrooms come caked with clods of dirt. Everything is delicious.
For about a decade, OSCA has been part of a nationwide effort to move away from giant wholesale distributors and back to local farming. In addition to college and community co-ops, restaurants, farmers' markets, and even some supermarkets are forming relationships with local growers and producers. They say that benefits of buying from local farmers include a reduction in shipping and packaging costs; healthier, fresher produce; less environmental waste; and an economic and social investment in the local community.
OSCA still buys its dry goods and much of its produce wholesale, but purchases a great deal of its fresh goods from area farmers, creameries, orchards, and even beekeepers.
Johnson and Kittredge keep the local-foods system running smoothly. "We're the communication between the farmers and the co-ops," says Johnson. "At the beginning of the spring semester, we visited the farmers to talk about what we'd like them to produce next fall." Each week the coordinators phone or mail the following week's orders to the farmers.
The food each farmer produces varies. Ann Hauser makes feta and chévre cheeses from her goat's milk, while the Miller orchard crushes apples for cider. Tom Jeffreys sells honey, while others grow vegetables. Things change with the season, even from week to week, so farmers send an availability list the week before, says Johnson. In an e-mail notice to the co-op's menu planners, she writes, "I got a message from Adele Straub and she has some beautiful fresh shiitake mushrooms ready."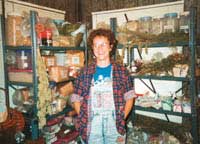 A dry foods storage room in a student co-op.
The Oberlin Sustainable Agriculture Program (OSAP), formed in 1995, is a major source of local foods. The farm, located about three miles from campus, allows community members to buy shares each spring to give farmers the necessary capital, then collect a portion of the harvest six months later. OSAP's biggest investor is OSCA, which spent $9,000 in 1998 (40 percent of OSAP's total revenue) on its goods.

Oberlin College was introduced to the idea of buying locally in 1988. The revolution, as students later called it, stemmed from a summer research study conducted by five students: Laura Baring-Gould '89, Daniel Elshoff '90, Greg Kehm '88, Katie Rae '90, and Kenneth Schneider '89. The group analyzed food-purchase by OSCA and Campus Dining Services (CDS) and discussed the advantages and strategies for buying locally. The project was coordinated by Sam Passmore '85 and co-sponsored by Oberlin's environmental studies program and the Meadow Creek Project, an environmental studies institute in Arkansas founded in 1979 by professor David Orr. Students Katie Rae '90, Adam Rogloff, and Christine Douglas '90 conducted a follow-up Winter Term project in 1989.


Brad Masi '93, Oberlin's project coordinator for environmental studies, was part of the group of students, headed by Nathan Scott '91 and Alex Tokar '92, that preached the benefits of buying locally to all of OSCA. By spring of 1990, the local-foods group had sufficient information to start reaching out to the co-ops. "We realized our first challenge was education, to get the members of co-ops to understand the importance of local foods," says Masi.