Heisman Highlights - Page 2
Women's 4x100 Team Wins Conference and Competes in NCAA Championships
by Zachary Pretzer '03

Four sprinters on the women's track and field team bested their competition at the conference championships last spring and got a chance that most collegiate athletes only dream about.
With a time of 48:58, their best time of the season and more than a second faster than the second-place team, Oberlin's 4x100-meter relay team automatically qualified to compete in last May's NCAA Division III National Championships.
The team included senior April Wynn, junior Courtney Stackhouse, sophomore Amber Coleman, and freshman Teresa Collins.



Several team members had qualified for the big event in 2001, but they decided not to go. This year, however, the timing was right.
"We made a different choice this year because of different members and different attitudes," said Stackhouse.
For Coleman, who hails from Maple Heights, Ohio, the trip to nationals was a source of pride both for herself and her hometown.
Competing in the Division III nationals was very special to me and my community, family, mentors, and coaches," she said.
On competition day, the weather was unfavorable and anxieties were running high in the 4x100 field.
"It was cold and the competition was very good, fierce even. It was obvious that other teams were trying to figure out who the heck we were," Stackhouse said.
"The atmosphere was really tense," Coleman agreed. "People weren't friendly like they are at regular meets. But we went into nationals with the attitude of "Hey, we're here and we have nothing to lose. No pressure, no stress, just do what we
do – run."
The team did well, achieving a time of 49:06, a pace that most women's 4x100-meter teams would envy. But it wasn't good enough to qualify for the finals. Oberlin placed 15th in the nation.
"We didn't run our best time, and I think that had something to do with the chilliness," Stackhouse said. "But we did manage to beat another team, straight up, on foot, as opposed to the team who placed behind us because they dropped the baton."
With Wynn's graduation, Oberlin's sprinters have a hole to fill before they can qualify for nationals again.
"We're losing April, but she was never an intended sprinter. She wanted to be a hurdler and jumper only, but like a champ, she came on the relay teams whenever she was needed," said Stackhouse.
"April will be hard to replace. I don't know who will step up and fill her big shoes–no pun intended," said Coleman. "But I think we can do it again."
College Honors Former Athletes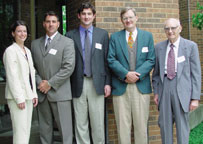 Six former Oberlin athletes were inducted into the Athletic Hall of Fame last May. Comprising the 17th class are (left to right): Robin Cardin Lowe '88, a record setter who totaled 353 saves in 1986, and earned a .943 save percentage in 1987; Jon Laird '84, a three-time All-Ohio Athletic Conference selection in football; David G. Stevenson, Jr.'91, one of the most celebrated swimmers in Oberlin history; Bernth Lindfors '59, an All-American soccer and All-Midwest lacrosse player; Bill "Friar" Tuck '45, a six letter earner in basketball, baseball, and football; and Sidney F. Bellows, class of 1905 (not shown), a two-time football captain, and earner of 7 Ohio Athletic track titles.


Page 1 | 2 | 3 | 4