Heisman Highlights - Page 3
Head Coach Ann Gilbert Moves to Michigan State
by Zachary Pretzer '03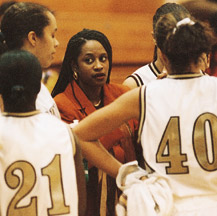 After leading the women's basketball team for eight seasons, Ann Gilbert '91 is becoming a LadySpartan.

She has stepped down from her Oberlin post to join the Michigan State University women's basketball program, where she will be an assistant to Head Coach Joanne McCallie.

The move gives Gilbert, a native of Elyria, Ohio, a chance to coach at the NCAA Division I level in one of the most competitive conferences in the nation, the Big Ten. As an Oberlin player Gilbert excelled as a point guard, but at Michigan she'll work with the post players. She'll also be part of the Lady Spartans' recruiting team.

"We are excited to have her join our Spartan family, and we look forward to her helping us pursue championships at the highest level," said McCallie.

"It's an honor to move from Division III to Division I and it doesn't happen very often," Gilbert said.

During her tenure at the helm for Oberlin, Gilbert became the winningest coach in the Yeowomen's 25-year history, with a 58-136 record. She led Oberlin to six postseason conference tournaments in six years and helped develop eight All-NCAC players as well as the 1999 NCAC Newcomer of the Year, Nzinga Broussard '02 of Delaware, Ohio.

Gilbert began her Oberlin coaching career as an assistant women's basketball coach in 1992-93. She was an assistant coach for the men's basketball team in 1993-94 and became women's head coach in 1994. In 1996, she took on the additional responsibilities of senior women's administrator and associate director of athletics.

As a student, Gilbert first played for Ohio University, a Division I team in the Mid-American Conference. In her sophomore season at OU, she was named Most Outstanding Defensive Player and earned All-MAC honors.

Upon transferring to Oberlin, Gilbert became one of the elite Division III athletes in the nation. She was a two-time NCAC Player of the Year as well as an NCAA Division III first-team All-American. In her first season with Oberlin, she was named a Kodak All-American, a Fastbreak All-American, a Division III scoring leader, and a Sports Illustrated Player of the Week. In her senior year, she was named the Honda Division III Player of the Year, the American Women's Sports Federation Player of the Year, and the Champion USA Division III Player of the Year.

As a junior, Gilbert led the nation in scoring with 31.1 points per game; she came in second in her senior year, with 31.2 points per game. In just two years, she racked up 1,527 points and became the school's all-time scoring leader–a record that was broken last season by Broussard. Gilbert set 24 school records and 10 conference records, some of which came from her efforts as a sprinter for the women's track and field team. Her NCAA Division III single-game records for points (61), field goals (28), and field goal attempts (55) remain unsurpassed.

Gilbert graduated in 1991 with a major in sociology and a minor in economics. Her jersey (#22) was retired in 1994, and she was inducted into the Oberlin College Athletic Hall of Fame in 2001.