Heisman Highlights - Page 4
100 Years of Yeomen Basketball
by Mike McIntyre
Oberlin celebrates its 100th year of basketball with the satisfaction of knowing it has produced hundreds of excellent scholar-athletes whose educational experiences were enriched by competing on the court.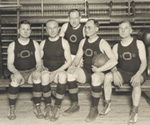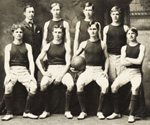 Although historically the team has struggled, the Yeomen have had some excellent seasons. With 15 wins and 3 losses, the 1949-50 season stands out as one of the best. The 1975-76 trip to the NCAA regional semifinals was another high point.
But the strength of Oberlin's program is something more meaningful to many than numbers on scoreboards or entries in record books. The scholar-athlete tradition has been at the center of Oberlin's program throughout its history, and it remains alive and well on the Yeomen court today.

No one exemplifies this tradition more than Ronald "Chip" Winiarski '90, an Oberlin College Athletic Hall of Famer who was perhaps the best player ever to wear an Oberlin uniform.
Winiarski, who played from 1986 to 1990, remains the Yeomen's all-time leader in points scored (2,303), scoring average per game (22.6), field goals attempted (1,923), free throws made (440), and free-throw percentage (.816). In addition to his basketball accomplishments, Winiarski was a star on the baseball diamond. After graduation he played for six years in the minor leagues on teams affiliated with the Cleveland Indians and the Chicago White Sox.
During Winiarski's time at Oberlin, the basketball team had only one winning season, 1987-88, when their record was 14-12. But it's not about wins and losses, contends Winiarski, now manager of continuous improvement for Applied Industrial Technologies in Cleveland. It's about how the experience of playing adds so much to one's overall college experience.
"I didn't go to Oberlin with the intention of playing pro basketball or pro baseball. I wanted to prepare for the rest of my life,"says Winiarski, who lives in Bay Village, Ohio.

"Sports teaches you disciplines that may carry over to other parts of your life–teamwork, perseverance, the ability to set goals and achieve them. You need a healthy balance. It's the same type of experience you might get in chemistry lab or at the Conservatory.
"I honestly don't remember the athletic achievements," Winiarski continues. "What I remember are the relationships built on the court, in the locker rooms, and on bus rides. Nobody cares about points scored in your career. What you remember are the great experiences, the relationships with your teammates and coaches."
An Oberlin roundballer from an earlier generation agrees.
George "Dutch" Mytinger '38, also a member of the Oberlin College Athletic Hall of Fame, says even in the days of the two-handed set shot, Oberlin basketball was about relationships.
"We were very good friends, the entire team," says Mytinger, who lives in Oberlin. "The people were nice. The fans were loyal. We all had a good time."
Oberlin has an interesting but little-known connection to basketball's beginnings. When James Naismith invented the game in 1891 as an indoor activity for students suffering through the harsh winters at Springfield College, one of his collaborators was Luther Halsey Gulick, a Springfield College employee who had studied at Oberlin.
With such deep roots and with such strong bonds, the Yeomen basketball program can look forward to its next 100 years with high hopes for more competitive seasons.

Page 1 | 2 | 3 | 4