Around Tappan Square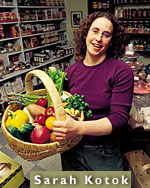 44074: the Zip Code of Choice for 4 Adventurous Obies
What can a small town in Ohio offer to these four extraordinary Obies? Apparently just as much as they can offer to the town. Each one has a special reason for remaining here, and there is no sign of anyone leaving anytime soon. That's just fine with Oberlin, and Sarah, Michelle, Brad, and Joe, too.
In the past few years the town of Oberlin has seen some wondrous changes, thanks, in part, to four recent graduates who tore up their return tickets and stayed on to work a few miracles. They are close friends who share a common vision about the town, and a commitment to offer their skills to the community.
Because of the individual talents and the vigor of each one's enterprise, townspeople and college folks can buy fresh organic produce every day at Sarah Kotok's Market. They can redefine their spirits and bodies at Solaluna, Michelle Landau's stress-free yoga studio. They can converge twice a week under bold blue-and-white striped tents to purchase fresh, organic vegetables, cheeses, chickens, eggs, and flowers at the Farmer's Market, pride of Brad Masi and the Oberlin Sustainable Agriculture Project group. And they can dine any time wisely and well at the Black River Café, where Joe Waltzer offers memorable meals made with fresh ingredients grown by local farmers.
These four Obies are the most recent cluster of several earlier graduates who each found something that seduced them in this little "toy" town. Each has provided new skills and attitudes that benefit all who live here, softening and blurring the borderlines of town/gown strongholds.
What is it that, in this flat, often overcast, northeast Ohio town, has so completely captivated them?
Michelle says, "I think of the four of us as part of a community, a group who cares about the environment, quality of life, and open-mindedness. I think what's neat about us is how closely involved we are with Oberlin. We came to Oberlin College and fell in love with the town. The same considerations that brought us to the college--tolerance, an interest in expanding our knowledge---still keep us here now."
Sarah Kotok '98, who came here from Maine for a degree in environmental studies, put it this way: "Why would I want to leave? The summers here are wonderful: shopping at the Farmers Market, swimming in Chance Creek, going for ice cream at Miller's, or to the Milan Melon Festival, smelling the sweet peonies, picking berries, and strolling through the quiet streets in the warm nights of August. In the fall there are the clear blue skies of October with great orange pumpkins lining a bountiful market; walks along the Black River; browsing antique stores and flea markets. In winter, we trudge through the frosty, snow-covered golf course and Westwood cemetery with the dogs; have drinks at the Feve; and we play music in a warm house by the fire. And spring. With the masses of tulips and daffodils, people sitting out on the sidewalks, breakfast on the front porch on the first possible warm morning, and sunsets that pour liquid gold into Michelle's yoga studio--why go anywhere else?"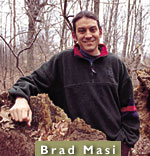 Brad Masi '93 was as lyrical as Sarah. "After I graduated, I moved back to Colorado where I grew up and I worked for the Sierra Club for two years. David Orr called me in the summer of 1995 and asked if I wanted to work on the environmental studies center for a year. Now, five years later, I'm still here. Most of my free fun time is spent meandering around and exploring the Ohio landscape. I must admit that it has taken time for me to appreciate a landscape scraped so flat by glaciers. But the deciduous forests here are amazing---from skeletal branches piercing swirling gray skies in winter to the explosions of color in the fall, the local landscape is all about drama. Some of my best moments are spent watching wispy clouds trail past my window while daydreaming on my sofa with my cat. Oberlin can be so quiet and tranquil, especially in the summer! The summers have a magical quality here--the landscape explodes as a lush green expanse, a remarkable contrast to the barren starkness of winter. The hectic pace of the college recedes and there's a three-month break from the grind; schedules loosen up and you connect with a more raw sense of the community."
Joe Waltzer '98 arrived in Oberlin from New City, about fifty miles north of the George Washington Bridge, for his degree in environmental studies. "I had considered staying in Oberlin at various times during my college years, and, even when I first came here, I had thoughts of opening a restaurant. But as I was finishing my finals I still had no clear idea of what I wanted to do with my life.
"Over senior week I ran into an acquaintance who was interested in selling his restaurant, so I explored my options and opened my own restaurant two months later." At first Joe had visions of working less and being more involved in community organizations and the merging social scene of people his age, but his breakfast, lunch, and dinner schedule has not really permitted that, yet---at least, not to the degree he would like. "This is my day job and my night job," he says, although he doesn't really seem to mind the strenuous hours he spends running the Café.
Michelle Landau '95, an expatriate New Yorker, recently bought a house in Oberlin, and her roots are clearly here, although admits that she still has waves of yearning for authentic Big Apple pizza and real delicatessen-type bagels. She took two-and-a half years off from her studies and worked as manager of the Feve coffee shop and snack bar, and at Irene's Café upstairs at the Co-op Bookstore, before returning to classes for a bachelor's degree in English.
"When I first arrived as a student, I never, ever, thought I would want to live here because, like most other New Yorkers, I couldn't imagine how I could live anywhere else. But because I just eased into resident status, I never went through a major period of adjustment or awareness about 'life in Oberlin.' I thought I was simply staying around while I figured out where I eventually wanted to be. To my astonishment I've discovered that I don't want to live in New York, or anywhere else. I'm aware of how full my life is right now, and I finally understand that Oberlin offers me certain things that a big city cannot, including healthier living. I've made loads of good friends. There are some awesome people here, and our paths seem to cross in a million different ways, some involving college, and some not."