Memorial Minute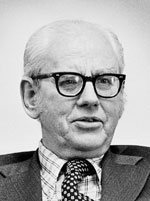 Ellsworth Carlson '39
1917-1999
Emeritus Professor, Provost, and Acting President
Ells Carlson died last summer in Oberlin at age 82. Over the second half of the 20th century he ranked among the most important faculty members at this college. For those who knew him well, the words that come to mind are remarkably consistent through this best years and the years of his adversity. The newspaper editors who named him Oberlin's Man of the Year in 1975 got it right when they called him a "direct, warm, modest, good human being." As faculty colleague, department chair, provost and acting president, he was the sort of person you could agree with or quarrel with as if you were his closest friend. But another constant in his nature was a quiet terrier tenacity, a commitment to purpose against the odds which some might justifiably call courage and others will call plain guts. From his earliest days at Oberlin to the years of his campus leadership, he was a gentle warrior for what he thought was right.
The son of a Protestant minister, he was born in Bridgeport, Connecticut, and arrived in Oberlin in 1935 as a freshman from Pocatello, Idaho. He took a while to decide what he wanted to become. A determination to somehow improve the world through service was there from the beginning and would never go away. His father wanted him to follow in the ministry, but that ambition fell off early on. His presidency of the Oberlin Peace Society, the largest and most influential organization on campus in the 1930s, led him to believe that social activism was a more certain path to usefulness than academic scholarship. After graduating PBK in 1939 he headed to China as a Shansi representative and, with his wife, Bobbie Dunn Carlson, spent World War II confined there by Japanese aggression. Only after a postwar stint with the State Department and the O.S.S. did Ells head for a Harvard PhD and a career of teaching and service on the familiar ground of his alma mater, beginning in 1950.
Over the next two decades he contributed far more than his share to the global demands of the Oberlin curriculum. No Oberlin historian has ever taught more different kinds of history than Ells did, and if any were ever asked to do so in the future, they would doubtless file a grievance. Today five historians do what he did then. Chinese History was what he was hired to teach, with Japan and the rest of East Asia thrown in to round
things out. Piled also on his plate were Europe from the fall of Rome to the fall of Hitler, the History of Czarist Russia and the Soviet Union, and the History of British and post-imperial India. In 1966 to enhance his specialty, he created East Asian Studies, Oberlin's first interdisciplinary program. Meanwhile, across most of the 1960s, he served as chair of the History Department, presiding over several senior angels of academic discord. Young untenured historians valued his guidance and protection. His departmental leadership prepared him well for those feats of crisis management which he brought off after moving over to Cox in 1969.
Ells served as provost and then as acting president from autumn 1969 to the spring of 1975. The worst crisis broke early on. No one involved at the time will forget those awful days in May 1970 when this campus, like others all across the country, was suddenly locked in the grip of anti-war emotion by the bombing of Cambodia and the Kent State killings. President Carr was out of town. As a large crowd of students marched across Tappan Square to seize Cox in protest, Ells came back to the campus after dark to confront them in the floodlights. Confront was too strong a word for him. "I just talked to them," he said later on. After he promised to take their protest to the faculty, the students left the building, and the faculty agreed to meet. The upshot was a special Saturday afternoon meeting of the faculty packed into King 306, surrounded by students and chaired by Ells. After 3-1/2 hours of taut debate, with Bobbie Carlson arriving with sandwiches midway through, an anti-war resolution was finally passed for faculty members to sign as they chose. The regular semester closed four days later to give way to the Liberation College, and Ells served as Acting President through the summer as Bob Carr resigned and prepared to leave.
The next three years witnessed an altogether different sort of academic crisis, the Fuller presidency. Ells served Bob Fuller as provost, the president's man, lightning rod and good soldier all the way, from Fuller's arrival to his abrupt departure. At first Ells savored the new atmosphere, the white-knuckle survival of Carr's last years replaced now by breezy, open-ended reform. "I am enjoying my work very much," he wrote to an old friend. He followed with this splendid understatement: "President Fuller is anxious to achieve a great deal in a rather short amount of time" But then on orders from above he began to take on tough issues that bloodied him--cutbacks in faculty tuition remission, a purge of the Admissions staff, changes in faculty governance to enhance the power of the presidency, and the resulting faculty drive for
unionization.
When it was finally over, and Fuller was gone, the trustees turned to Carlson once more for help. Despite the medical problems that now began to bother him, Ells served for the next 14 months as acting president, patching a ripped campus community back together again with the help of trusted friends. This was perhaps the most valuable service to the College he ever performed. He now thought he might be named president himself. Many people shared this hope, but the trustees tapped Emil Danenberg instead in search of a clean slate and fresh start. Ells quietly returned to the faculty in 1975 to teach and write and mend himself till his retirement in 1981.
His colleagues saw a lot of him on campus after that. He and Bobbie kept showing up, for concerts in Finney, dramatic performances in Hall, gatherings of historians and East Asian scholars, and--what he seemed to like most of all--visiting speakers from the outside world. He loved to hear them out and then hit them gently afterwards with tough questions to find out what their answers were. He never lost his intellectual curiosity, his appetite for new ideas, and the chance to chew over one more way he and the rest of us might try out to possibly improve the world.
Geoffrey T. Blodgett is the Danforth Professor of History. This Memorial Minute was adopted by a rising vote of the General Faculty of Oberlin College on March 21, 2000.
Photo courtesy of Oberlin College Archives.