Around Tappan Square
Oberlin's Very Own Violin Shop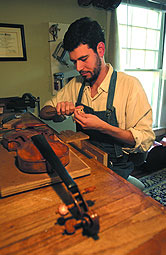 A passion for music and carpentry benefits both town and gown. by Yvonne Gay Fowler / photos by Al Fuchs
Budding musicians have long sought Oberlin's Conservatory as a place to hone their talents, but many students have relied on out-of-town professionals for repairs and adjustments to their stringed instruments. The Violin Shop of Oberlin has finally brought the craftsmanship of violin making back to town.
"At first, professors were waiting to see the level of my work on their students' instruments," says owner Seth Truby '96, who opened his College Street shop last February. "Now the teachers are bringing me their own valuable violins and bows for maintenance and adjustments. Some of these musicians had been traveling to New York and Chicago for work; I'm just two blocks away."
An English major and National Merit Scholar, Truby had studied the violin since age 4. He chose Oberlin for its unique musical resources, but actually found the inspiration for his career in the College of Arts and Sciences, where he says he was encouraged to incorporate practical skills into his academic curriculum. So during his senior year, he took a job as a handyman on a nearby farm, gaining valuable carpentry experience while helping to build a barn.
Truby graduated that spring and, with his wife, Angela '96, moved to California and continued carpentry work for another year. Realizing that he could combine his musical background and his growing skill in woodworking, he secured an entry-level position at Ifshin Violins in Berkeley, one of the largest shops on the West Coast.
In the evenings and on weekends, Truby made his own tools, and, over the course of two years, built his first instrument, a viola. He landed an apprenticeship in 1999 under Oded Kishony, a violin maker trained in Italy and New York, and refined his knowledge of acoustical systems, varnish-making techniques, and the traditional methods of classical Italian violin making.
"David Boe, my former organ teacher, had been involved in recruiting violin makers to Oberlin in the '80s when he was dean of the Conservatory," says Truby. "Needless to say, he was pleased when I later stopped by on a visit to town to share news of my career. He graciously arranged a meeting with Dean Dodson of the Conservatory, who introduced me to many of the string faculty members and helped get the business off the ground."
"Oberlin is a good setting for this kind of enterprise," Boe says. "We have a lot of string students here who need special attention. I may have done the introductions, but it was Seth's initiative that got the ball rolling."
To offset the unsteady income of a new business, Seth and Angela share a full-time social work position at Oberlin Community Services. They spent their first six months renovating their century home and converting an upstairs bedroom into the full-service violin shop. The instruments that Seth builds there have been purchased and praised by professional musicians and teachers.
"He sold a very fine viola to a Conservatory student, and word began to spread about his craftsmanship," recalls Peter Slowik, professor of viola. "With stringed instruments, there can be a need for a lot of care and maintenance. Seth can do all types of work. I have no problem recommending him to my students."
"Our instruments are our babies--we don't trust them with just anyone," says Amy Mattson King '93. A private violin teacher in Elyria and an adjunct teacher at Lorain County Community College, King says she was thrilled when she learned that a violin repair shop would be opening up close to home. Not only is she a loyal client, but her students keep Seth busy as well.
"He's a fellow alumnus, and that makes me trust him," King says. "He has a very fine ear and can hear the slightest difference in sound. I think that's why he's so good, and that's why he's my new violin guy. I don't trust anyone else."