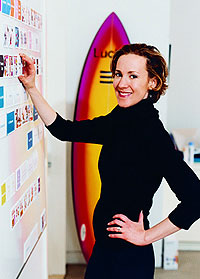 Talking Shop
Kim France's new magazine is pure fun. And for that she doesn't apologize.
by Jacqueline Marino / photos by Todd France
Back in the '80s, when Kim France was writing fiction at Oberlin, her friends imagined that they might see her name in big, bold print atop the words "editor-in-chief" one day.
But editor-in-chief of a shopping magazine? A guru of the great girl pastime?
France '87 rarely cracked open a fashion magazine in those days, let alone a magazine about shopping. But clothes were on her mind. Not compulsively, but more so than the average creative writing major at Oberlin. The daughter of a jewelry designer, France was raised in the mall-centric city of Houston. She spent vacations from school invading New York's Lower Broadway district, trolling Agnes B, Canal Jeans, and the Unique Clothing Warehouse. Even at Oberlin, she made fond shopping memories.
"There was this sporting goods store," she says, "and in the basement was this thrift store that was open maybe one day a week. Friday, I think. That's where we scored all of our cool things."
Still, an Obie at the helm of a shopping magazine--particularly one called Lucky--is hard to fathom. An uninhibited celebration of clothes and beauty products, Lucky makes other women's publications in the supermarket aisle seem text-heavy; France's editor's note is often the lengthiest article. There is nary a relationship column, celebrity news snippet, or sex tip. Instead, the magazine encourages readers to unleash their "inner consumer" with a page of stickers that proclaim "Yes!" and "Maybe?"
France's publication has not escaped the critics, some of whom have questioned whether Lucky even deserves the classification of magazine. But its parent publisher, Conde Nast, insists there is no blurring of the lines between advertising and editorial content. Advertisers love the magazine so much that Lucky was spared economic hardship after September 11. By the end of 2001, in fact, its circulation was up 40 percent, according to Media Week, and it was named Adweek's "Startup of the Year."
The consumer culture that Lucky celebrates stands in stark contrast to the more intellectual, humanitarian, and anti-materialistic convictions held by most Obies. But 38-year-old France has proven that someone can feel comfortable--and even thrive--in both environments.
"Kim has always balanced pleasure, fun, and intellectual pursuits," says New York art critic Margaret Sundell '87, France's freshman-year roommate. France herself says the magazine is pure fun because shopping is, too. The magazine's critics, she says, are simply echoing concerns of a bygone era when women looked to women's magazines for their news.
"What works about Lucky is that it cuts to the chase," France says. "We're not presuming to be anything but a magazine about shopping. What I've always found insulting is this notion that a fashion magazine for women had to somehow cover other areas of women's lives. If I want to read a movie review, I'll read Anthony Lane in The New Yorker. If I want the news, I'll turn on CNN."
At the heart of France's ability to shine in environments as divergent as Oberlin and Lucky may be her philosophy of writing and publishing. She is not a purist about either. "I'm more of a populist about it," she says.
As modest about her writing abilities then as now, France chose a career in publishing when she realized that she lacked the chops for fiction writing. So before graduating from Oberlin in 1987, she wrote three pieces, quickly, for The Oberlin Review. She remembers most vividly her essay about fearing a future in which she'd go to work dressed in "little suits with those ties they wore in the '80s."
Not to fear. Today she sits in her corner office in Times Square, wearing jeans, a casual top, and gold Prada sandals. Photos of her in Lucky suggest a classic style with a smidgen of funkiness. Her love of hats, including the wide-brimmed and the floppy, was spurred by her severe sensitivity to sunlight. Her newfound devotion to fabulous shoes was honed while editing Lucky. But even with great success--and so far the 800,000-circulation magazine is considered as such--France has managed to "keep it real" in both look and outlook, those close to her say.