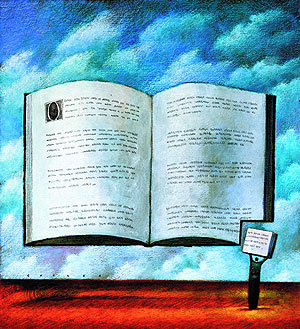 The Writing on the Wall
Oberlin's Creative Writing Program is tough and intimidating, so why are students clamoring to get in?
by Doug Diesenhaus '02
About 60 of us sat in Professor Dan Chaon's introductory fiction writing class, alternately feeling excited and petrified. One-by-one our short stories--magnified ten fold--were being projected onto the screen in King Building's cavernous lecture hall.
We followed along as Chaon read aloud the current piece. In this case, the author's name had been blocked out, allowing him or her to remain anonymous during the ensuing class discussion. We weren't always this lucky; in other, more intimate creative writing workshops, we often endured face-to-face evaluations of our stories and poetry.

Creative Writing 110 is among the largest of Oberlin's writing classes, consistently enrolling 60 or more students. In most such classes and workshops, students are given one or two assignments each week; several are then presented to the class for feedback and evaluation. Each of us, when our moment came, hoped for the same things: that our peers would find value in our writing, critique it constructively, or, at the very least, not hate it. College writing courses throughout the country use this basic workshop style; it allows students to interact with established poets and prose writers while learning from the comments and writing of fellow classmates.

The process is intimidating, and we weren't the first students to approach it with trepidation. "Workshops, as they are perhaps meant to be, are simultaneously wonderful and terrifying," says Visiting Assistant Professor Michael Byers '91, author of the short story collection The Coast of Good Intentions. "Being present while your story is discussed is like hearing your relatives talk about your corpse while you listen from a corner near the ceiling."

Although overwhelming at times, the pressure proves to be of great benefit to students throughout the semester. "Having to bring work in, present it in public, and stand behind it is a marvelous goad to producing the best possible work," Byers says. "In very few places are your efforts so baldly and explicitly judged."

Sophomore Ashly Emmer agrees. "The most nerve-racking part is being judged," she says, "but overall, the process is more rewarding than praise or criticism from a teacher because you get to hear honest remarks from students who are in the same boat as you."