Meet Paul Wolansky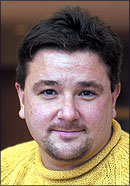 Paul Wolansky joined the Alumni Association staff in July, filling a position vacated last year by Dale Preston '83. A native Clevelander and former director of campus activities at Northwestern University, Wolansky heads up the association's regional alumni network and electronic communications.

Q: You've just returned from a lengthy road trip, visiting alumni clubs in Boston, New York, western Massachusetts, Connecticut, Pittsburgh, Atlanta, and Ohio. What are these groups up to, and what's new with the regional network?

A: We've just moved to a more structured Oberlin Club format for all of our regions, and so far it's working--event attendance has been very high. Our vision is to build steering committees for each region to increase activities that appeal to different alumni populations. For the most part, FOOD is a big draw for alums--potlucks are consistently our most highly attended events. Some groups, like Colorado, San Francisco, and Los Angeles, are finding hikes to be very popular. New York City alums just participated with New York Cares in a day-long service project with the public schools.

Q: How can alums learn about Oberlin-related activities that are happening in their areas?

A: Check out OBIEweb, our newly redesigned Alumni Association website (www.oberlin.edu/alumni). While there, visit the Oberlin Clubs link or the Off-Campus Calendar. One benefit of the calendar (www.oberlin.edu/offcampus) is that alumni can submit information about their own upcoming performances, lectures, concerts, etc.

Q: Part of your job involves working with OBIEweb's online community. What's new at that site?

A: The online community page (www.alumniconnections.com/oberlin/) has been redesigned, and it looks great; we almost doubled the number of users last year. Alums can use the online community to find their classmates via the alumni directory or to find (and list) their businesses in the Obie Yellow Pages. It's a great service, and it's free! In the past few months, we've experimented with online surveys, including the possibility of an online book club featuring live chats with Obie faculty members or authors. We also conducted the Alumni-Elected Trustee election online this year; almost 2,000 Obies voted as of early November.

Q: After five months on the job, what are you finding noteworthy about the campus and town?

A: There's nothing better than the late afternoon autumn light shining through the trees on Tappan Square. Hearing the Oberlin Choir practice each Wednesday afternoon can seem almost celestial at times. My favorite coffeehouse is the cafe at Oberlin Music--its loft location would be worth $8 million in a major metropolitan area--and, it's owned by an alum!
---
Paul can be reached at (440) 775-8692 or at Paul.Wolansky@oberlin.edu