The Lewis Center was made possible largely by a gift from Adam Joseph Lewis, a philanthropist and supporter of holistic health efforts, international health programs, and a variety of environmental issues.

"This building is only the beginning of what's possible. Someday the difference between indoors and outdoors will disappear."
William McDonough, founding principal of William McDonough + Partners, Architects and Planners, was named TIME magazine's "Hero of the Planet."

"The model for the next Industrial Revolution may well have been in front of us the whole time: a tree."
Peter P. Bihuniak is vice president of technology for BP Solar, a leader in photovoltaic systems which turn sunlight into electricity.

"It's a hurdle to get over the initial investment. But you save money over the long haul."
Environmental educator David Orr chairs Oberlin's environmental studies program.

"Relative to the potential for ecological design, if this building were the Kitty Hawk, we're ten feet off the ground. Someday, someone will design 747s."
IT'S NOT EASY BEING GREEN
Creating a single benign product for corporate use can present a hurdle for environmentalists. McDonough and German chemist Michael Braungart were asked by a client to come up with an environmentally safe fabric. Initially, they looked at a hybrid made of cotton and plastic from recycled beverage bottles, a solution that appeared to make environmental sense. But a closer look revealed two problems: when office workers moved about in their chairs, they roughed up the fabric, sending tiny bits of recycled plastic into the air. The plastic wasn't meant to be inhaled and, moreover, once it was blended with cotton, the resulting fabric wasn't safe to biodegrade in soil. Eventually, McDonough and Braungart settled on a fabric made from pesticide-free plant and animal fibers--wool and ramie.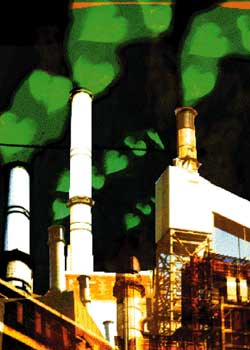 Searching out safe dyes and processing chemicals was the next challenge. Sixty chemical companies declined to help before European giant Ciba-Geigy signed on. With the experts on board, McDonough and Braungart considered 8,000 chemicals, rejecting 7,962. The remaining 38 compounds were used to create a line of safe fabrics, including the non-toxic and biodegradable fabric on the Lewis Center's auditorium chairs. The seating fabric is not only edible (if anyone should be so inclined), but degrades in sunlight in about three years.
Playing devil's advocate, ABC News correspondent and symposium moderator Robert Krulwich '69 asked McDonough, "Can you eat the fabric on the auditorium chairs?"
"I invite you to eat a chair," McDonough replied.
"Have you eaten pieces of the fabric?" Krulwich persisted.
"Actually, I have," McDonough said.
Eco-smart wastewater is another Lewis Center technology that may push its way into the corporate world. The Living Machine, created by John Todd, is a built-in wastewater system that imitates natural purification systems found in ponds and marshes. Bio-mimetics expert Janine Benyus says the system illustrates a new humbleness in our search for solutions to environmental problems. "Rather than turn to an engineering text, Todd asked how nature would filter water." The emerging science of biomimicry, she explains, seeks sustainable solutions by mimicking nature's designs and processes.

New-age environmental thinking permeates the design of the Lewis Center. Simply put, it doesn't try to minimize environmental problems; it tries to eliminate them. The building is constructed using time-honored materials--brick, wood, and stone. Its windows open to allow in fresh air. Huge, old-fashioned eaves shut out the high summer sun. These are features you could find in 19th-century Ohio buildings constructed of non-toxic materials and designed for Midwestern weather. Even the desks are made of wood rather than man-made materials. For the first time in generations, students will be able to carve their initials in their desks. Thus, everything old is new again.