Working Together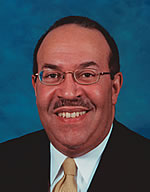 I had the pleasure recently of being one of President Nancy Dye's guests at a United Negro College Fund (UNCF) dinner in New York City. Oberlin was among the institutions being recognized for its generous support of Dillard University, a UNCF-member school that was heavily damaged by Hurricane Katrina. I'm pleased to report that the Oberlin College family raised $148,000 for Dillard, with contributions coming from nearly 850 employees, students, and alumni. Our group that evening included members of the Board of Trustees, the faculty, the administrative staff, and the Alumni Association. All of us were proud to represent Oberlin's institutional generosity in a time of pressing need. You can see photos from the event in Around Tappan Square.
Earlier in the month, I was in Oberlin for a meeting of the Alumni Council's Executive Board. We joined the Board of Trustees one evening for a dinner hosted by President Dye, along with staff from the development office and student callers working for the Oberlin Fund. The event reflected the personal efforts devoted by our College leaders to align all groups within the institution to work together to advance Oberlin's interests.
Board of Trustees Chair Robert Lemle '75 should be recognized for his wonderful efforts to reorganize and challenge the board to become the best possible steward for Oberlin's long-term growth and development. His position is not an easy one; it takes a lot of time, skill, patience, and perspective—plus a good dose of humor—to keep such a high-powered group of largely Oberlin graduates working well together! Oberlin is fortunate that someone of Robert's ability has assumed such a critical role during this time in our history. Under his leadership, the Board has taken actions to work more effectively and to establish excellent communications links with the key sectors of the College community.
The leadership of the Alumni Association is delighted to see the institutional and personal steps taken to improve our ability to work together for Oberlin. The Alumni Association will continue to focus on improving communications with alumni. We are also dedicated to improving the level of alumni support for Oberlin, as well as the opportunities for alumni to connect with current students and programs.
Each day in Oberlin, young people, working together with talented faculty, are engaging in the process of learning and creative exploration. In this magazine issue alone, you'll read stories of students who are impacting the sciences, the arts, the environment, and communities in need across the planet. Notice also the many ways in which alumni are helping. Please think about ways you can support and participate in this exciting process. Working together, we can achieve so very much.
Wendell P. Russell, Jr. '71
President, Alumni Association