New! Online Class Notes
The Alumni Association announces an exciting new way to keep in touch with other Obies! OBIEWeb, the Alumni Online Community, now offers alumni the opportunity to post class notes online in a secure, password-protected environment.
You'll still see class notes in the quarterly OAM; however, the online opportunity lets you read about your classmates a bit sooner while also allowing you to sort posts by class year and topic. To post or read class notes online, you'll simply need an OBIEWeb account, which is free and available to all alumni.
To get started, visit www.oberlin.edu/alumni/classnotes. If you are new to OBIEWeb, you will need to register using your Oberlin ID number, which appears above your name on the address label on this magazine.
Questions? Contact alumni.office@oberlin.edu.
---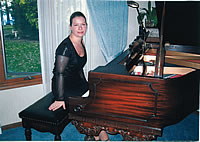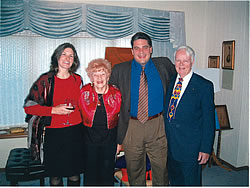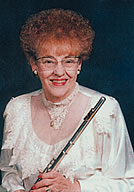 Top: Pianist Anastasia Dedik '08. Other student recitalists were mezzo-soprano Katherine Lerner '06, harpsichordist Seungok Lee '08, and cellist Rachel Desoer '09. Middle: Jessica Downs, Marion Russell '44, Dean of the Conserva-tory David Stull '89 and Anson H. Russell.
Happenings
The sounds of flutes were strangely absent from the recital room of Marion Widowson Russell's home in Avon Lake, Ohio, last fall, where the focus instead was on four Oberlin Conservatory students on piano, violoncello, and harpsichord, plus voice. The private gathering was billed as an intimate recital to showcase Oberlin talent; Marion, a 1944 Conservatory voice major, occasionally hosts such events to raise travel money for Oberlin students to perform and compete.
"Our guests were able to visit with these talented students and catch the flavor of their lives," Marion says. "The students themselves took advantage of the beautiful, mild fall day and walked down by the water's edge to enjoy Lake Erie."
A longtime flutist and music teacher who spent 54 years in the Lorain County Schools, Marion is principal flutist for both the Cleveland Women's Orchestra and the Patriot's Symphonic Band in Lorain County. Private flute lessons, plus classes in theory, harmony, and composition, keep her career going strong, as do performances at benefit concerts. "Our four children and grandchild keep me crisscrossing the country," she says. That, coupled with singing in the church choir, tending to her rose garden, and spending time with her husband, Anson, of 44 years makes it hard to believe that Marion still finds time for her newest warm-weather hobby: jet skiing. —Kelly Viancourt

Next Page >>