Where Are They Now?
No Slowing Down, Even at Age 81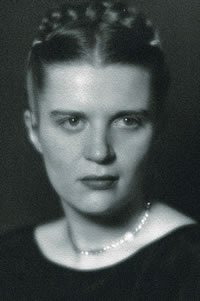 "How do you think we're doing?" is a loaded question when addressed to a fellow journalist, particularly one who used to have your job.
"The alumni magazine is more professional looking," replies Helen Hayslette Reiff '46. "But do you know what really bothers me? A lack of contrasts. Pink on red? The magazine needs more contrast! People my age can't read it. Blue on white is fine, but blue on black? I don't even bother reading pages like that."
Big sigh.
At age 81, the former Oberlin Alumni Magazine editor (1951 to 1954) runs an editorial service out of her Middlebury, Vt., home, where she copy edits journals, novels, dissertations, and other materials while working on city projects and homeschooling students in art and music. "I was busier last year," she says dismissively about the fast, professional pace she has kept most of her life.
An English major at Oberin, Reiff continued her studies at Stanford University, later working as an editorial assistant in the Commerce Clearing House. She spent several months as a government clerk in California and on the editorial staff of a daily newspaper before getting the call to edit Oberlin's then-semi-monthly magazine, which included assisting the alumni secretary and writing campus news pieces.
"It was a different time," says Reiff. "We were at war, and the magazine didn't have a big budget. [Production costs were absorbed by the Alumni Association, advertisements, and paid subscriptions.] We made do with what we had." What they had were hundreds of letters sent in by alumni, readers who turned straight to the magazine's "Ten Thousand Strong" section (now class notes) to keep up with friends.
"Articles in the front of the magazine were harder to come by. People only read the magazine for the class notes," she says. Still, many of the pieces made for interesting reading and proved valuable to successors: stories about Oberlin's transition from village to city in 1951; historical pieces by Professor Robert S. Fletcher '20; and quirky bits of campus news, such as the end of bed-making services (a $10,000 savings for the College) in men's dorms in 1952. Reiff's departing issue, the magazine's 50th anniversary issue in 1954, included a letter from OAM founding editor Louise E. Lord, Class of 1897.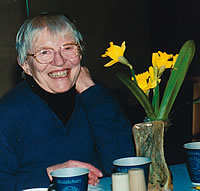 Looking to change professional gears, Reiff left Oberlin that summer. She'd planned to spend a few weeks in Wisconsin and California before heading to Harvard and Radcliffe for a graduate program in teaching when a car accident left her with a broken back. But all was not lost.
"Robert Reiff, who taught in Oberlin's art department, and I got close after my accident," she nearly giggles. "I call that a very good car accident" and the beginning of a very busy life. She and Robert would later visit 57 countries, with Reiff changing jobs 25 times—everything from teaching at Middlebury College to working in a social security office. In 1990, at the age of 65, she earned a law degree at Vermont Law School.
"I am very thankful to Oberlin for my great education and for friends that have lasted my whole life," she says. "Oh, and also for the music!
"Now, be sure to put in all the commas."
—Yvonne Gay Fowler
Next Page >>