Feature :: Page 3 :: The Chimes They Are A-Changin'
Jump to Page 1 : 2 : >3< : 4 of The Chimes They Are A-Changin'
Adam Ash, an advertising and promotion consultant for the company in the 1980s and '90s, says that Kvistad's enthusiasm was contagious and brought in the sales. It still does. "He would never say that he's a great salesman, but he is. He's a magnet. We went to a lot of trade shows together. We'd be in a booth with all the musical instruments and it didn't matter what he picked up—a maraca or whatever—there would be a crowd of people around him. He was like Sammy Davis Jr. in The Candy Man."
Everyone—regardless of their training—should feel comfortable making music, says Kvistad, whose product line is permeated with an "anybody can do it" philosophy. The Woodstock Music Collection, which was launched in 1986 as a companion line to the chimes, features such play instruments as miniature bass drums, harmonicas, whistles, maracas, banjos, and pianos.
In the facility's product display room, Kvistad picks up a child's steel drum and raps out a tune with the mallet. He mumbles something about its being out of tune, but the sound transports me to a Caribbean beach anyway.
A Creative Nexus
"Everybody has something at their core; for me it is music," says Garry Kvistad. "Music is a religion, it's a necessity. I put it right there with food and shelter, for sure. If I don't have that balance, I go crazy."
Kvistad has a dizzying performance schedule hopping from one ensemble to another. In the early days it was Blackearth, then Giri Mekar, a Woodstock group that performed Balinese gamelan music. Since 1980 he has played with Steve Reich and Musicians, with whom he earned a Grammy Award for the 1998 recording of Reich's Music for 18 Musicians, and he performs locally at Bard College, where he donated some instruments.
Kvistad is also a member of the acclaimed five-man percussion ensemble Nexus (replacing the retired John Wyre a year ago), which was inducted into the Percussive Arts Society Hall of Fame in 1999.
Kvistad had been a longtime friend and occasional performer with the band before its members extended him an official invitation to join. Camaraderie, he says, makes for great music, as does his deep understanding of the band's worldly musical style and motivations.
His arrival, as well as the group's new program—very melodic and slow—have marked Nexus' first major change in its 32-year history. The group's repertoire includes not only contemporary percussion works by ensemble members and others, but ragtime, world music, and improvisation. Nexus has collaborated with such well-known composers and conductors as Toru Takemitsu, Ellen Taaffe Zwilich, Cristoph Eschenbach, and Seiji Ozawa.
"It's not necessarily stuff that people come to a percussion concert expecting, which is the beauty of the group," Kvistad says. "We're always doing something a little out of the ordinary and ear-opening."
Kvistad's musical training is most evident in the chimes' division. Along with a standardized method of computerized tuning, Woodstock uses an ancient tuning system known as "just intonation." The frequencies at which the different tubes vibrate are integrally related, producing a pure, rich sound. The resulting harmonies, which vary according to the size of the chimes and how they are tuned, range from Bach and jazz to ecclesiastical and ancient world music. Some play the last few notes of a familiar song; others simply evoke a mood.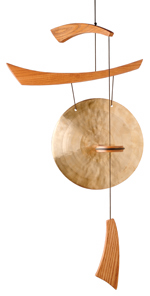 In the chimes' production area, Kvistad demonstrates the three machines that cut pipes. Competitors, he says, cut their pipes to uniform lengths. But because a pipe's thickness can vary, the resulting sound can be slightly off. Woodstock varies its pipe lengths to keep the sound consistent.
With methods this precise, the company has established itself as a market leader in product innovation and marketing power. But quality comes at a price; Woodstock's chimes cost significantly more than those of its competitors. And when Woodstock introduces a new product or design, says Kvistad, the knockoffs come like clockwork six months later.
That keeps the company hustling with new ideas. While most of its competitors outsource their research and development areas, Woodstock's research efforts—given the musical element of its products—are highly specialized; several R&D employees have an academic or practical background in music.
"Woodstock could find designers elsewhere who understand the musical and acoustical requirements to make a good musical product, but Garry finds it very helpful to keep the control in house," says Ash. "When I was there, Garry himself was developing 70 to 80 percent of the stuff. I could say, 'yes, yes, no, no, no,' to new product ideas, but I was wrong 90 percent of the time."