Feature :: Page 4 :: The Chimes They Are A-Changin'
Jump to Page 1 : 2 : 3 : >4< of The Chimes They Are A-Changin'
Not every idea is a winner, admits executive vice president Stacey Bowers, a former Blackearth ensemble member. As fans of contemporary music and art, he and Kvistad have tried to market products with a modern look, using plastics, stainless steel, and clean lines to create pieces reminiscent of the Museum of Modern Art. But the designs hit a sour note with customers.
The last three years have been rocky. A Woodstock-owned retail operation—two stores and a mail-order business—closed when it proved too costly. The move involved layoffs, which grated against Kvistad's humanitarian side. Some retail stores and chains have gone under, leaving Woodstock scrambling for new markets. (Once found only in specialty shops, the chimes now are sold at Lowe's and other major retailers.) An increasing percentage of Woodstock's percussion designs is now made overseas, and most of its children's line and other musical gifts are produced by other companies.
Still, the company continues to grow. "Success in business is about adaptation," Ash says. "Over the past 24 years Garry has shown incredible ability to look into the future and change his company." And like many Obie-born businesses, Woodstock is concerned with more than just the bottom line. Some of its glass chimes are handcrafted at a fair-trade design studio in Johannesburg, where workers are paid a living wage and profits are reinvested into the South African community. Proceeds from sales of Woodstock's Liberty Chimes are donated to the September 11th Children's Fund. Kvistad himself is chair of the Woodstock Guild, a regional arts organization and parent group of the 100-year-old Byrdcliffe Arts Colony.
"Oberlin was an important turning point in my life, both socially and musically," Kvistad says. "I went there in 1967 to become a symphonic musician and left wanting to do more. Oberlin taught me how to open my ears and eyes to everyday experiences and take something new with me as a result. My father warned me that as great a school as Oberlin was, it was not the real world. Thank God for that."
Sally Parker is a freelance writer in Rochester, N.Y.
:::::
"I went to Oberlin at a really strange time."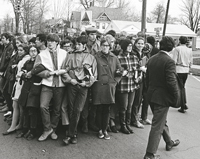 Garry Kvistad compares his first year at Oberlin—1967—to a Victorian boarding school. Students wore jackets to dinner. A housemother presided over the meal, and everyone remained seated until she gave the signal.
But during the next three years, "all hell broke loose," he says.
A student couple from the College—the face of the "new, young, loose generation," made the cover of LIFE magazine. Flower power was in full bloom, as was the antiwar movement and the ensuing potential for protest violence. Just down the road, Kent State erupted. "School just stopped," Kvistad recalls. No final exams, no last classes. Everyone just left.
"The one thing we all had in common was this radical view of the world," he says. "We were going to do business differently from the way our fathers did."
During a recent visit to Oberlin, Kvistad was struck by how orderly and serious the campus seemed. He remembers a more spontaneous, fun-loving place, but admits that a short visit as an adult can't give him a true picture.
In keeping with the tenor of the times, his senior class decided a yearbook was bourgeoisie. Now, when he wants to look back, he regrets that he can't.

Be it Chicago blues or a Gregorian chant, musical genres of all types are reflected in Woodstock's precision-tuned wind chimes. While some of the tunes simply evoke a modd, others ring such weel-known melodies as Amazing Grace and Pachelbel's Cannon in D. Visit www.chimes.com/consumer.html for a virtual sound tour.
:: End