Bound to Please: An Extraordinary One-Volume Literary Education
By Michael Dirda '70
WW Norton, 2005

Reviewed by Catherine Gabe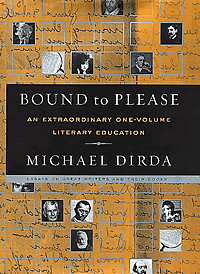 So many books, so little time. Perhaps it's time, then, to call on an expert like Michael Dirda, the 1993 Pulitzer Prize winner for literary criticism who was dubbed the "best book critic" in America. Dirda, however, is the first to characterize his own work as loosely critical and more akin to cruising a cocktail party, nibbling all the time on the literary and cultural fare found throughout the ages.
As a longtime editor and writer for the Washington Post Book World, Dirda offers newspaper readers a leisurely Sunday treat with his judicious, engaging essays. Bound to Please, his most recent work, represents a mere smidgen of his columns, selected to lure readers into a world of delectable, wide-ranging books and authors, many of them overlooked by American readers.
He muses about such literary staples as Fyodor Dostoevsky, John Updike, Thomas Pynchon, Anthony Trollope, Victor Hugo, Ralph Waldo Emerson, Arabian Nights, and the Bible. But Dirda also pushes the edge, grabbing our hands and introducing us to lesser-known writers often unappreciated by readers: Flann O'Brien, Ronald Firbank, and Marguerite Yourcenar, among others.
Dirda laces history with cultural observations, choosing books about such quirky people as Alexander Pushkin, whom he says "drank like a frat boy, toadied to the tsar, and was often a vulgar lout." "This is a talky novel," he says of one work, while describing another as "earthy, with a sourdough flavor."
His writing—mentally invigorating and fact-filled—is sure to make the reader pause and think, "I never knew that." Dirda works your brain, stretching it with his insights, unique spin, and a bit of humor. Chapters are three to four pages long—allowing for easy sporadic reading—and arranged under such enticing categories as "Romantic Dreamers," "Visionaries and Moralists," and "Lovers, Poets, and Madmen."
Dirda is at his personal best in this book, and he seems to hit his own goal for a guaranteed good read: "What I really enjoy in any kind of writing is simply a distinctive style, an idiosyncratic diction, the sound of voice on the page."
In his preface, he states why he does what he does: "Corny as it sounds, I believe that unless we try to familiarize ourselves with the best that human beings have thought and accomplished, we doom ourselves to be little more than mindless consumer-wraiths, docile sheep waiting to be shorn by corporation or government, sad and confused dwellers on the threshold of a palace we never enter.
"The writers about whom I write," he continues, "will open the door, they are the door, to a life of consequence, passion, and self-exploration."
When was the last time someone mixed your drink so carefully at a cocktail party?
Next Page >>