Graduates of the class of '48. From left to right: May Li, Political Science; Mary Lighthall, Religion;
Arthur Lindberg, English Literature; and Martha Lipson, Pre-Medical.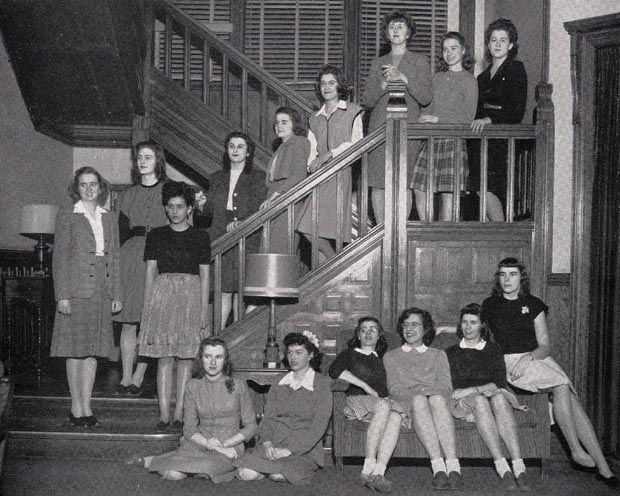 The residents of Baldwin Cottage, 1946.
Seated: J. Dexter, L. Hickman, C. Fauver, S. Moll, M. Holmes, M. Calvin
Stairs: R. Payne, E. Gott, M. Martin, E. Pappas, M. Reid, C. Dudley, M. Cunningham, L. Jandy, B. J. Hess
The 1946 men's basketball team.
Top Row: Dietz, Newsom, Matson, Bettman, Brown, Zimmerman
Middle: Coach Butler, Simmons, Dalpiaz, Lewis, Olson, Neblett, Murnighan, Director Nichols
Bottom: Strong, Helfrich, Strand, Tuck, Addison, Krieg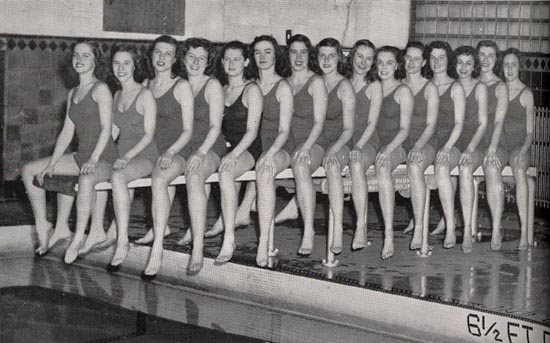 The 1947 women's synchronized swimming class.
From left to right: B. Baxter, L. Lower, Joann Johnson, B. Cameron, D. Naugle, C. Trewin, B. Bacon, M. B. Yeend,
E. Schmidt, B. Wightman, A. Royal, E. Arkett, E. Bushnell, G. Berstegen, N. Jones.