---
---
Vernon Johns:
Farmer, Preacher, Civil-rights Pioneer
---

by Maelinda Turner
Oberlin College Alumna, Class of 1991
---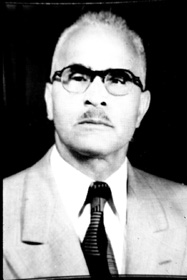 "I want to know whether you want students with credits or students with brains," said Vernon Johns in 1915 to the deputy dean of the Oberlin Theological Seminary (later renamed the Graduate School of Theology). Undaunted by a letter telling him that his credits were useless, Johns had come to the dean's office and boldly announced that he was willing to start classes.
Johns was tested in the reading of Greek scripture by Edward Increase Bosworth, dean of the seminary. Johns passed the test with flying colors, and Bosworth admitted him on a trial basis. By the end of the semester Bosworth made Johns a regular student and helped him find part-time work as a preacher to support himself while he studied.
Self-taught scholar
Vernon Johns, one of the pioneers of the civil-rights movement, was born in 1892 in Prince Edward County, Virginia. His parents did not have enough money to send him to school, so he educated himself while working. He was frequently seen plowing and reading at the same time. He was said to have a photo-graphic memory, and he was able to recite long biblical passages, including the entire book of Romans. He taught himself Greek, Latin, Hebrew, and German.
Johns's academic achievements at Oberlin soon made him a scholastic class leader, displacing Robert M. Hutchins. (The future president of the University of Chicago was a freshman in 1915 and left Oberlin in 1917). According to author Taylor Branch, Hutchins said it was impossible for a "country Negro" to make the grades Johns did without cheating. Johns responded to this attack by punching Hutchins in the mouth. The two eventually made up and remained friends for many years. Before his graduation in 1918, Johns was chosen to give the annual student oration at the Memorial Arch. He was highly respected by his classmates, and in later life he spoke of many positive experiences at Oberlin.

(Left: Click on the document to read a letter that Vernon Johns wrote to Oberlin Professor G.W. Fiske two years after Johns's graduation.)
After graduating from Oberlin, Johns enrolled in the graduate school of theology at the University of Chicago. His success there and his reputation as an intellectual and a preacher brought him many job offers,in the pulpit as well as in the classroom. With his fiery temper, he did not keep any job for long.
Sermon published
He became a wandering preacher, lecturing and farming in the East and South. At this time liberal and fundamentalist preachers were debating issues ranging from biblical interpretation to the social responsibility of preachers. Johns, irritated because no black preachers were included in the debate and none of their sermons were being published, sent the works of his fellow preachers, Mordecai Johnson and Howard Thurman, to publishing houses. When they were rejected, Johns submitted a sermon of his own, "Transfigured Moments". In 1926 it was the first work by a black preacher to be published in Best Sermons of the year.
Johns acquired a reputation as an eccentric. He would preach immediately after plowing, standing in the pulpit in dirty overalls with mud on his shoes. He would leave his family for months at a time to preach on the road, to farm, and to sell various knickknacks. He liked being able to travel light-sometimes packing all his belongings in a paper bag.
Church in Montgomery
In 1947 Johns found his way to the Dexter Avenue Baptist Church in Montgomery, Alabama. In spite of his eccentricities, its black-elite congregation liked his preaching and his leadership. Within two years, however, he started to speak out about racial issues and to castigate his congregation for ignoring them. He was critical of both the black and the white population of Montgomery.
Race was not a popular topic in the press in the late 194Os. It was assumed that black people would accept their position unquestioningly, but Johns started to make waves. He persuaded black women to bring charges in court against their white rapists, and he helped the women with their cases. No one was convicted, but just getting the white men into court was an achievement. Several years before 1955, when Rosa Parks made history by refusing to move to the back of the bus, Johns tried to sit in the white section. When the bus driver refused to let him, Johns demanded to have his fare back and got it. Johns was even bold enough to order food in an all-white restaurant.
Scolding the congregation
Members of the Dexter Avenue Baptist Church congregation were increasingly discomfited by his behavior and by his criticism of them. He scolded them for being consumers unwilling to do manual work. He accused them of doing nothing while their race was being killed. Johns eventually offered his resignation, and the deacons accepted it after much debate. In 1952 Johns was once again a traveling preacher, and the Dexter Avenue Baptist Church searched for a more conservative preacher They found one two years later: Martin Luther King, Jr.
Vernon Johns died in 1965 of a heart attack. He was a man ahead of his time in the civil-rights movement. Believing that all it took for evil to flourish was for good people to do nothing, he did something.
In 1990 Oberlin's annual minority's scholars day was renamed in honor of Vernon Johns.
Maelinda Turner, president of the class of 1991, wrote the paper on which this article is based for a private reading course with associate professor of black studies Adrienne Jones. Turner used material in the Oberlin College Archives and in Taylor Branch's Parting the Waters: America in the King Years (New York: Simon and Schuster, 1988).
---

Note on the use of images:
The photographs and drawings provided by the Oberlin College Archives for the EOG website may be downloaded for educational use in the Oberlin School District classrooms. For other use of Archives photographs--including reproduction in a brochure, scholarly article or book, or other publication--please seek permission from Oberlin College Archives, 420 Mudd Center, Oberlin, Ohio, 44074. Images from the Oberlin College Archives are protected by copyright laws. For use of other images in this website, please write to the EOG webmaster.
---

Click here to return to the homepage of "African American Leaders: Oberlin Connections".
---
---