Oberlin War Memorial, West Vine Street
Geoffrey Blodgett
Oberlin Architecture, College and Town -- A Guide to its Social History (Oberlin, Ohio: Oberlin College, 1985).
Oberlin's monument to its war dead dates from 1943, but the longer history of the memorial goes back to the Civil War. The original design, proposed by Professor Charles H. Churchill in 1868, called for a Gothic tower crowned by a small astronomical observatory. College trustees found this plan too costly. The monument completed in 1871 was a similar but less ambitious structure with marble commemorative tablets embedded at the base of a sandstone spire. It stood on college ground at the southeast corner of Professor and West College streets. Its twentieth-century fortunes oddly reflected shifting attitudes toward commemorating war.
By the early 1930s the memorial looked like a crumbling medieval ruin and was nicknamed "the sunken church." Most Civil War veterans had died. Gothic forms had fallen out of style, and patriotic sentiment ran low in the wake of World War I. At the Memorial Day observance of 1934, pacifist college students interrupted the village ceremony by laying anti-war placards ("Schools, Not Battleships," "Transfer All War Funds to Aid of Needy Students") against the monument. A year later it was dismantled and its marble tablets placed in storage.
Then came World War II. Even before Pearl Harbor a drive got underway to build a new memorial at its present location away from the campus, overlooking Plum Creek in Wright Park. William Hoskins Brown designed a simple terraced wall of old brick to hold tablets, including the originals, honoring the Oberlin casualties of all wars since 1861. This was dedicated in 1943.
Over the next three decades the wall began to tilt under the pressure from the embankment behind it. Corrective repairs were attempted after the Korean War. During the Vietnam War a drive to replace the wall with a new design ended in failure. Then in 1979 a city council decision to tear it down mobilized the American Legion post to save it. The restoration project, headed by Carl Breuning, was complete in time for the town's sesquicentennial celebration of 1983.
The monument remembers 96 casualties (town and college) of the Civil War, 11 townsmen killed in World War I, 16 in World War II, and 2 each in Korea and Vietnam.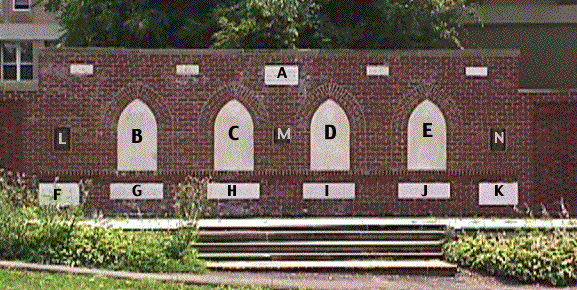 The Inscriptions on the tablets and plaques are as follows:
A: To the men of Oberlin who have died in the service of our country.
B: Co. C., 7th OVI [Ohio Volunteer Army, the regiment from Oberlin]
| | | |
| --- | --- | --- |
| Joseph H. W. Collins | Burford Jenkins | William Parmenter |
| Arthur C. Danforth | Edward G. Sackett | Orlando H. Worcester |
| Frederick M. Palmer | Lewis R. Cates | Cyrus P. Hamilton |
| Daniel S. Judson | Romaine J. Kingsbury | George R. Magary |
| Charles P. Bowler | James M. Rappleye | Edward P. Shepard |
| John J. Evers | Edward W. Goodsell | Stephen Kellogg |
| Harrison Lewis | Lt. Henry W. Lincoln | Harlan B. Cochran |
| Lt. Isaac G. Jones | H. Dwight Claghorn | Oliver C. Trembly |
| Capt. O. P. Brockway, 5th USCT | Lt. E. R. Smith, 5th USCT | Charles F. King |
C:
| | | |
| --- | --- | --- |
| Robert Burgett, 8th OVI | Martin Torrence, 8th OVI | William Bartlett, 8th OVI |
| Nathan H. Whitney, 41st OVI | Benoni B. West, 41st OVI | John C. Lenhart, 41st OVI |
| George S. Harris, 42nd OVI | Seth J. Porter, 43rd OVI | Gordon H. Porter, 60th OVI |
| John H. Beam, 60th OVI | Hiram K. Bedortha, 60th OVI | Patrick R. Nohilly, 65th OVI |
| Samuel M. DeForest, 69th OVI | Willis E. Baldwin, 87th OVI | Daniel S. Munger, 100th OVI |
| John B. Biddle, 101st OVI | Lucius C. Cole, 124th OVI | Ira Wade, 124th OVI |
| Henry A. Cowles, 150th OVI | George W. Reamer, 150th OVI | John Beach, 150th OVI |
| Edward Ells, 150th OVI | John Monroe, 150th OVI | William E. Leach, 150th OVI |
| Morris Plain, 176th OVI | Nathan Gray, 176th OVI | Alva Peabody, 176th OVI |
D:
| | | |
| --- | --- | --- |
| Theodore A. Tenney, 2nd OVC | Wilson Jeffries, 2nd OVC | John W. Devlin, 1st Colorado C |
| Elisha Gaskins, 5th Mass. C | Samuel C. Pettifer, 1st OVA | Edmund B. Costa, 1st OVA |
| Thomas Payl, 1st OVA | James Stone, 1st OVA | Reuben Turner, 3rd USCA |
| Franklin White, 2nd Mich. Bat. | James Matthews, 5th USCT | Henderson Taborn, 5th USCT |
| Capt. W. A. Pinney, 27th USCT | Nelson Sawyer, 27th USCT | Isaac Smith, 27th USCT |
| Scipio Torrence, 27th USCT | George Dudgeon, 27th USCT | Lt. W. P. Michener, 44th USCT |
| Richard Chambers, 88th USCT | Henry Clarke, 1st NY RI | Francis D. Ingersoll, 116th NY |
| William W. White | Lt. Sylvester S. Dillman | |
E:
| | | |
| --- | --- | --- |
| Alonzo E. Pellett, 1st Kan. | William Black, 54th Mass. | Henry Real, 54th Mass. |
| Edward Williams, 54th Mass. | William Mitchell, 54th Mass. | Harrison Nichols, 54th Mass. |
| Oliver B. Ridgeway, 54th Mass. | John Tillman, 55th Mass. | New Year B. Morris, 178th OVI |
| George Hallauer, 15th KT | Henry A. Brewster | Archibald McArthur |
| Charles More | Henry Sands | Edward M. West |
| Capt. William H. Connet | Lt. Herbert Kenaston | |
F: Esteeming courage to be freedom and freedom to be happiness, do not weigh too nicely the perils of war. -Pericles

G: Our brave volunteers who fell in the war for the Union, 1861-1865.

H: Ringgold, Petersburg, Fort Harrison, Five Forts, Gold Harbor, Okistee, Port Hudson

I: Cross Lanes, Chattanooga, Winchester, Port Republic, Cedar Mountain, Antietam

J: Fredericksburg, Stone River, Gettysburg, Fort Wagner, Chicamauga, Pittsburg Landing

K: There abideth also an unwritten memorial of them graven not on stone but in the hearts of men. -Pericles

L: World War I, 1917-1918
| | | |
| --- | --- | --- |
| Jacob F. Alderer | Paul E. Surton | Wilfred A. Cobb |
| Karl W. Locke | Harry E. Mason | Lawrence McCarty |
| Paul S. Roberts | Thomas J. Quayle | Donald J. Slack |
| George Stevens | Paul S. Whitehead | |
M: Korean Conflict
William R. Gaeubau, Willard B. Holmes
Vietnam Conflict
Warren T. Scott, Gene A. White

N: World War II, 1941-1945
| | | |
| --- | --- | --- |
| Clifton D. Carter | Charles M. Cummings | Ralph V. Dale |
| Richard S. Dudley | Ralph A. Fowls | Carl F. Gutman |
| James T. Hall | Clyde A. Justin | Fred W. Kleps, Jr. |
| Bernard A. Linden | Leo V. McGinty | Jay W. Pycraft |
| Perry L. Shook | Ferrier H. White | Louis C. Young |
| Louis Zalka | | |