---
---
Allencroft
134 South Professor, 1861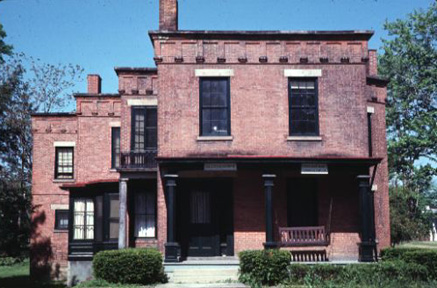 Allencroft has been rich with special memories for every generation of Oberlinians since it was built. An asymmetrical, receding stack of brick cubes, it stands as a kind of local prototype for the Italianate style which served to compromise the rivalry between Greek and Gothic beginning in the 1860s. (The compromise had set in on the eastern seaboard 15 years earlier.) Ralph Plumb, a hero of the Wellington Rescue, had the house built in 1861. Plumb and his brother Samuel were upstate New York abolitionists who came to Oberlin in 1855 and promptly joined the village elite. A restless lawyer-politician with an eye for the main chance, Plumb joined the Quartermaster Corps of the Union army the year his house went up. Soon after the war he left Oberlin with his brother for Streator, Illinois to make his fortune in coal mine speculation and become a Republican congressman.
Dr. Dudley Allen, a popular and cultivated physician, took possession of the house in 1865. Neighbors remarked on the Allen family's fondness for collecting objects of art and beauty, not a common village trait. A son, Dudley Peter Allen, graduated from the college in 1875 and later became an important Cleveland surgeon. Shortly after his death in 1915, gifts to the college from his widow made possible Allen Art Building (1917) and Allen Memorial Hospital (1925). Meanwhile the family home had passed to the college in 1899, and begun its long career as a dormitory, first for academy children, later for conservatory and college women. Recently it has served as Russian House.
The house underwent serveral changes over the years. Dr. Allen added bay windows and more space to the rear in 1872. The college enlarged the rear again in 1913, periodically remodelled the interior, and narrowed the front porch in 1952. Stripped of the flourishing trumpet vines which once climbed over its porches, balconies and cornice, Allencroft in its dark, flat-roofed containment seems reminiscent of the urban brownstone mood of American cities in the Civil War era.
(Blodgett 85-86)
For information about Allencroft within the context of Oberlin College architecture, please click here.
---

Click here to return to the main page of

"Historic Preservation in Oberlin"

.

---

---