---
---
Dascomb House
227 South Professor, 1853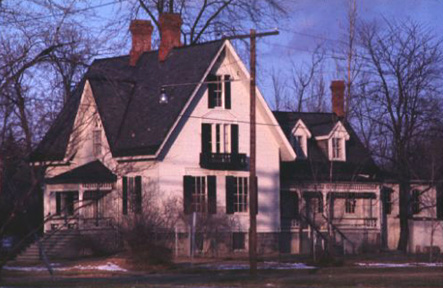 This house is Oberlin's finest relic of the Gothic Revival, which captivated American architectural taste in the 20 years before the Civil War. Considered by some to smack of aristocratic mannerism (High Church Episcopalians were among its principal sponsors), the Gothic fashion was not widely favored in earnest Oberlin.
James Dascomb was no man to flinch before the local bias. He was a charter member of the Oberlin faculty, having arrived from New England in 1834 to teach chemistry and biology. He was also the town's first doctor. Skeptical of early village reform enthusiasms, Dascomb was, in the words of one contemporary, a "conservative force in the midst of the fervid and plastic mass at Oberlin." His wife Marianne headed the female department of the college from 1852 to 1870 and helped organize local female opposition to woman suffrage.
Their house, built in 1853-54, exhibits many of the features popularized in the work of Alexander Jackson Davis, a leading promoter of the Gothic Revival -- cruciform ground plan, steeply pitched roof line, prominent front gable, bold brick chimneys. Though it is finished in careful detail -- note the lancet window with its horseshoe hood mold in the front gable -- the character of the house relies more on strength of form and outline than on applied decoration.
Originally it stood on the brow overlooking Plum Creek, on the present site of Johnson House. From this proud bastion Dr. and Mrs. Dascomb held out against a respectful but changing world for over 25 years. When the house caught fire in a lightning storm in 1863 the stout frame held, and they were able to restore their home exactly as before. After it was moved across the street following Dascomb's death in 1880, dormer windows were added to the rear extension and a new front porch was installed. The house has been sympathetically preserved by Warren and Adele Taylor, its owners since 1939.
(Blodgett 69-70)
---

Click here to return to the main page of

"Historic Preservation in Oberlin"

.

---

---