---
---
Wright-Carter House
171 Elm, 1880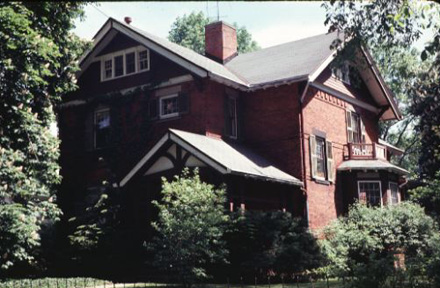 In February 1880, James N. Wright, a prosperous timber merchant from the Keweenaw peninsula of Upper Michigan, bought a double lot on Elm Street just as his daughter Harriet prepared to enter the Oberlin conservatory. He had this impressive brick house built for his family the following summer. It marked a departure from the local architectural conventions of the day, which still ran mostly to variations on the Italianate. The broad eaves and bold timberwork about the porch carry a suggestion of Swiss chalet styling, just then coming into vogue. And the subtle figures laid into the brickwork on the front face of the house show an uncommon attention to decorative detail.
After daughter Harriet married Howard Handel Carter on a trip abroad in 1892, the Carters made this place their home. Carter had graduated from the conservatory in 1874 and taught pianoforte there from 1881 to 1923.
Dewey and Carol Ganzel bought the house in 1967. Over the years since, they have refinished the interior with period furnishings and have done much to restore the aesthetic impact of both house and grounds.
(Blodgett 122)
---

Click here to return to the main page of "Historic Preservation in Oberlin".
---
---