---
---
Lucy Stone (1818-1893)
---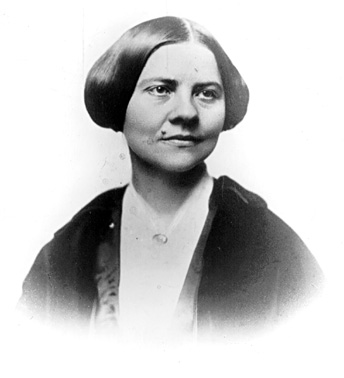 Lucy Stone, 1847

(Oberlin College Archives)
Short biographical note
Lucy Stone, "American reformer, who was a pioneer in the movement for women's rights. She was born near West Brookfield, Mass., on Aug. 13, 1818. Disagreeing with her father's belief that men should be dominant over women, Lucy undertook to educate herself and was graduated from Oberlin College in 1847.
A woman of great personal magnetism, she toured the country, lecturing against slavery for the Anti-Slavery Society and also advocating equality for women. She was an organizer of the first national women's rights convention held in Worcester, Mass., in 1850. In 1855 she married Henry Blackwell, a crusader for women's suffrage, and by mutual agreement with her husband she retained her maiden name. She then focused on winning equality for women, generally through legislation, and often in vain. She helped organize the American Woman Suffrage Association in 1869.
From 1872 she and her husband were in charge of the Woman's Journal , an effective forum for communicating their views. She continued to be active in the cause of women's rights almost until the time of her death, in Dorchester, Mass., on Oct. 18, 1893."
(The Encyclopedia Americana -- International Edition Vol. 25. Danbury, Connecticut: Grolier Incorporated, 1995. 742-743)
Alice Stone Blackwell writes of her mother
In 1930, Lucy Stone's daughter, Alice Stone Blackwell, published a biography of her mother -- Lucy Stone: Pioneer of Women's Rights (Boston: Little, Brown, and Company, 1930).
An easy college choice:

"At the low wages then paid to women, it took Lucy nine years to save up money enough to enter college. There was no difficulty as to the choice of an alma mater. There was only one college that admitted women." (42)

Abolitionism at Oberlin:

"Professor Finney was famous for his terrific brimstone sermons. The 'Come-Outers' were the Garrisonian abolitionists, of whom Lucy was one. The Garrisonians were most of them unorthodox in their religious views; they severely denounded the proslavery attitude of most the clergy and churches; they encourages public speaking by women; they were generally non-resistants; they withheld their allegiance from the United States Constitution because it sanctioned slavery; and they advocated 'No union with slaveholders.' Several of the professors and a number of the students had come over to Oberlin from Lane Seminary, because its president, Doctor Lyman Beecher, forbade the discussion of slavery there. Oberlin was strongly antislavery, but its abolitionism was strictly orthodox and constitutional. Lucy wrote home a little later: 'There is not a single Liberator taken in Oberlin, nor a single Liberator man, woman or child here but me.'" (48-49)

The first debating society:

"The young men had to hold debates as part of their work in rhetoric, and the young women were required to be present, for an hour and a half every week, in order to hlep form an audience for the boys, but were not allowed to take part. Lucy was intending to lecture and Antoinette [Brown Blackwell] to preach. Both wished for practice in public speaking. They asked Professor Thome, the had of that department, to let them debate. He was a man of liberal views -- a Southerner who had freed his slaves -- and he consented. Tradition says that the debate was exceptionally brilliant. More persons than usual came in to listen, attracted by curiosity. But the Ladies' Board immediately got busy, St. Paul was invoked, and the college authoritiues forbade any repitition of the experiment.

A few of the young women, led by Lucy, organized the first debating society ever formed among college girls. At first they held their meetings secretly in the woods, with sentinels on the watch to give warming of intruders. When the weather grew colder, Lucy asked an old colored woman who owned a small house, the mother of one of her colored pupils, to let them have the use of her parlor. At first she was doubtful, fearing that the meetings might be a cover for flirtation; but when she found that the debating society was made up of girls only, she decided that it must be an innocent affair, and gave her consent. Her house was on the outskirts of the town, and the girls came one or two at a time, so as not to attract attention. Lucy opened the first formal meeting with the following statement:

'We shall leave this college with the reputation of a thorough collegiate course, yet not one of use has received any rhetorical or elocutionary training. Not one of us could state a question or argue it in successful debate. For this reason I have propsed the formation of this association.'" (60-61)
For more biographical information on the web about Lucy Stone and her daughter, Alice Stone Blackwell, please see the Women's Studies Picture Gallery.
For a short biography of Lucy Stone's great friend and sister-in-law Antoinette Brown Blackwell, please click here. To read two remarkable letters of exchange between them, please click here.
---

Click here to return to the "Lucy Stone walk-a-thon Tour" of some herstoric sites in Oberlin.
---
---