---
---
Monument to
General Giles Shurtleff
Photographs by Jonah Volk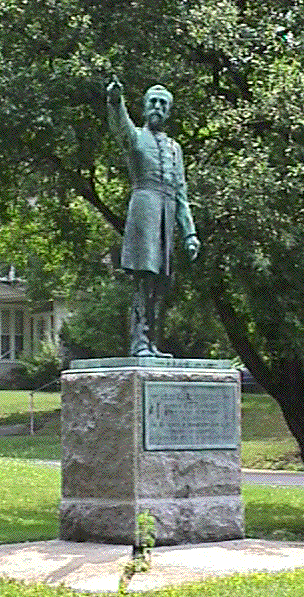 Giles Shurtleff was a theology student and tutor at Oberlin when the Civil War broke out. He was instrumental in the formation of the Company C, a regiment of the 7th Ohio Volunteer Infantry. Company C was made up of Oberlin College students, and Shurtleff served as its captain. He later commanded the 127th Ohio Volunteer Infantry/5th US Colored Infantry, the first black regiment in Ohio. After the war he returned to Oberlin and became a professor of Greek and Latin.
The text on the plaques is as follows:
"Freedom can not be given, it must be achieved.
"Giles Waldo Shurtleff (1831-1904): Believing in the ability of the negro to aid in the fight for his freedom, he organized the first regiment of colored troops raised in Ohio. Inspired by his leadership they offered their lives for the freedom of their race.
"Captain Co. C. - Oberlin Students - 7th Regt., Ohio Volunteer Infantry, 1861
Prisoner of War, August 1861-August 1862
On Staff of General Wilcox, 9th Army Corps, October 1862-March 1863
Engaged in the Battle of Fredericksburg, December 1862
Lieut. Colonel and Colonel, 5th US Colored Troops, July 1863-June 1865
Before Petersburg, this regiment lay two months in the trenches under daily fire. Nearly half its men were lost and he was severely wounded in the charge on New Market, September 1864.
Brevetted Brigadier General, March 1865."
A statue erected in General Shurtleff's honor was erected soon after his death, and currently stands in front of the building known as Shurtleff Cottage, on South Professor St. The statue holds a scroll and has one arm extended, pointing forward.