---
---
Early Oberlin
---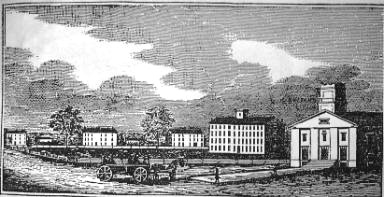 The Meeting House, Tappan Square, and Oberlin Institute Buildings - 1846
"From a drawing made by Henry Howe in 1846, published in his Historical Collections of Ohio (Cincinatti - 1848), page 315 and in later editions. The text states, 'The engraving shows, on the right, the Presbyterian church, a substantial brick building, neatly finished externally and internally, and capable of holding a congregation of 3000 persons [?]; beyond it, on a green of about 12 acres, stands Tappan Hall; facing the green, commencing on the left, are seen Oberlin Hall, Ladies' Hall and Colonial Hall, all of which buildings belong to the Institute.' The chemistry laboratory may be seen between Ladies' Hall and Colonial Hall. The small building between Oberlin Hall and Ladies' Hall is probably the 'shop'."
This material is quoted from: Robert Samuel Fletcher, A History of Oberlin College: From its Foundation through the Civil War , Vol. 1 (Oberlin College, Oberlin, Ohio, 1943) frontispiece. The sketch is from the same.

Click here to return to the homepage of "Oberlin College Architecture: A Short History". (Use the BACK command to return to the same place in the text).
---
---