---
---
Weltzheimer-Johnson House
---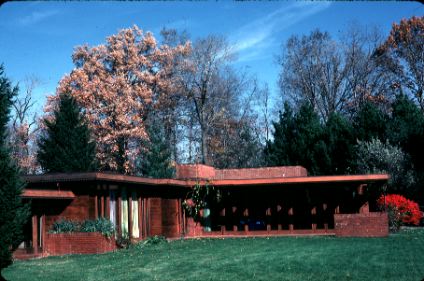 Photograph by Geoffrey Blodgett

In 1947, Charles and Margaret Weltzheimer commissioned a house from Frank Lloyd Wright. A year later, together with the help of Taliesin Apprentice Ted Bower, they built the Frank Lloyd Wright house on the outskirts of Oberlin. April 1, 1949, the family moved into their new home. The Allen Memorial Art Museum at Oberlin College now administers the public tours and educational programming at the W-J House, one of 45 FLW buildings open to the public. The W-J House is Usonian House and represents Frank Lloyd Wright's persistent vision throughout his long career to bring beauty and cultural value to middle-class American homes. Usonian homes were owner-built using simple construction techniques and materials and designed with the tenets of his Organic Architecture style. The W-J House represents all of these elements clearly: horizontality, physical and visual "inside-outside" interplay, public and private zones, passive solar attributes and integral ornamentation. Mid-Century modernism evolved through the work of international architects who relied deeply on the bedrock convictions of FLW's seventy-two years of design.

Click here to return to the homepage of "Oberlin College Architecture: A Short History".
Use the BACK command to return to the same place in the text.
---
---