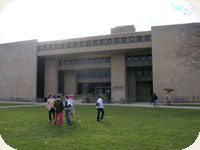 "
Don't expect to build up the weak by pulling down the strong.
"
Calvin Coolidge
"
My country owes me nothing. It gave me, as it gives every boy and girl, a chance. It gave me schooling, independence of action, opportunity for service and honor. In no other land could a boy from a country village, without inheritance or influential friends, look forward with unbounded hope.
"
Herbert Hoover

History
The College Republicans first became a chartered student organization at Oberlin College in 1982, about two years into the first term of President Ronald Reagan. The Charter of the CRs (which has since been revised) was approved by the Student Life Committee on March 2 of that year, and then went to the General Faculty on March 16. The CRs officially became recognized 30 days later, on April 15, 1982.
According to the archives of the Oberlin Review, the Oberlin College Republicans were generally active until about 1994. For reasons unknown to the organization's current members, the CRs then lapsed into over a decade of inactivity, beginning in the same year that the Republican Party took control of both houses of the U.S. Congress with its historic Contract With America. To our knowledge, Oberlin College lacked any conservative political student organization during that period from 1994 to early 2005.
Unsatisfied with the state of political dialogue on campus, and eager to expose the student body to the ideas of the GOP, a small group of students worked to re-establish the CRs during the Spring 2005 semester. On Tuesday, April 12, 2005, the Oberlin College Republicans held their first meeting in years -- a general interest meeting which was attended by over 25 students, some self-described conservatives or Republicans, and others simply eager to learn more.
Faculty Advisor
Since the organization's renaissance in April, 2005, Timothy Hall, Professor of Philosophy at Oberlin, has served as Faculty Advisor to the Oberlin College Republicans. Prof. Hall's principal interests are ethics, including applied ethics and bioethics, and political philosophy. He has provided the CRs with invaluable support and guidance, and we are pleased to call him our Faculty Advisor.
Officers
| | | | | |
| --- | --- | --- | --- | --- |
| SEMESTER | President | Vice President | Secretary | Treasurer |
| Spring 2007 | Mary Burke | Geoffrey Peterson | Desirae Sweet | Amanda Turley |
| Fall 2006 | Jonathan Bruno | Elliot Strathmann | Dan Riczo | Meghan Brooks |
| Spring 2006 | Jonathan Bruno | Barry Garrett | Dan Riczo | Barry Garrett |
| Fall 2005 | Barry Garrett | [No Elected Officer] | Meghan Brooks | Ezra Temko |
| Spring 2005 | [No Elected Officer] | [No Elected Officer] | [No Elected Officer] | Ezra Temko |
---