Kate Obenshain Griffin, Virginia GOP Chairman, Discusses The Failures of Feminism

On the evening of Wednesday, November 15, 2006, Chairman of the Republican Party of Virginia, Kate Obenshain Griffin, delivered a lecture entitled, "The Failures of Feminism." This lecture was the final Fall 2006 installment of the
Ronald Reagan Political Lectureship Series
, made possible by the generous support of Steven Shapiro (OC '83). Mrs. Griffin's lecture was also sponsored by the
Clare Boothe Luce Policy Institute
.
Kate Obenshain Griffin attracted national attention again at the 2004 Republican National Convention and was profiled in numerous publications and was a frequent guest on news and radio shows, including FOX News, C-SPAN and National Public Radio. Ms. Griffin served as then-Governor, now U.S. Senator George Allen's chief education and health policy advisor. A Virginia native, Griffin is a graduate of the University of Virginia where she was editor of the
Virginia Advocate
. Griffin is now a resident of Winchester, Virginia and lives with her husband and their four children.
Oberlin CRs Get Out The Vote With Lorain County GOP
This Election Day, November 7, 2006, members of the Oberlin College Republicans headed out to Lorain to help with the County Republican Party's Get-Out-The-Vote efforts. Members made phone calls to registered voters in the area and encouraged them to visit the polls on Election Day.
The Office of the Ohio Secretary of State has posted unofficial election results
here
. Voter turnout in Lorain County was just under 52%, about three percentage points higher than it was during the last midterm elections cycle, in 2002. Thanks to all the College Republicans who participated, and to the Lorain County GOP for giving us the opportunity to volunteer.
William Kristol Discusses the Midterm Elections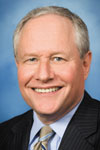 On Thursday, November 2, 2006, political analyst William Kristol delivered a lecture entitled, "American Politics Today: Republicans, Democrats, and the Midterm Elections." This lecture was the second Fall 2006 installment of the
Ronald Reagan Political Lectureship Series
, made possible by the generous support of Steven Shapiro (OC '83).
Mr. Kristol is a leading neoconservative thinker. He founded and serves as Editor of
The Weekly Standard
and appears regularly on Fox News Sunday and other leading television programs.
Mr. Kristol's lecture centered on the upcoming midterm elections, on prospects for the 2008 presidential election, and on America's place in the world today. Our guest devoted a significant period of time to answering questions from the audience, and also spoke with a small gathering of interested audience members after the conclusion of his lecture. We give our sincere thanks to William Kristol for visiting Oberlin this November.
Shameful Vandalism...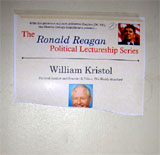 Throughout the week leading up to William Kristol's November 2 lecture, posters placed around campus by the Oberlin College Republicans have been defaced, covered up, and torn apart. The photo at left (which depicts a poster torn in half) was taken at 6:50pm, 11/1/2006, on the first floor of King Hall.
Jonathan Bruno, President of the Oberlin CRs, responded to the vandalism: "The irony of this situation is unbelievable. Radical students constantly denounce CRs lecturers as 'fascists', but we hear none of these detractors speaking out against this shameful vandalism, which itself smacks of fascist totalitarianism. Why would anybody want to restrain the public discourse on campus? The College Republicans are interested in fostering civility in the political debate at Oberlin, but the people who are responsible for this vandalism have no regard for civil debate. They would rather police all individual expression and restrict the freedom of speech of those who dare to think differently. I hope that all members of the Oberlin community will join me in calling for an end to this despicable, childish vandalism."
Oberlin CRs Participate in Student Organization Forum on Iraq
On Saturday, October 28, 2006, the Oberlin College Republicans participated in a forum on the Iraq War sponsored by the Oberlin Peace Activist League. Todd Ares and Jonathan Bruno represented the CRs, and spoke in opposition to the immediate withdrawal of American forces from Iraq. Other participants included Socialist Alternative, the OC Democrats, and OC ACLU.
Patrick J. Michaels Kicks off Lecture Series with Discussion of Global Warming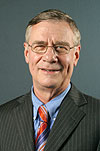 On the evening of Thursday, October 5, 2006, over 230 guests (including students, faculty, and other community members) packed West Lecture Hall to hear University of Virginia Climatologist and CATO Institute Senior Fellow Pat Michaels deliver a lecture on global warming. Michaels discussed the ways in which global warming is exaggerated by politicians, scientists, and the media. He spoke in opposition to policy options with excessive opportunity costs, such as severely restricting emissions and slowing down the economy (and scientific progress).
After the lecture, Michaels took questions from the audience and continued to engage students after the Q&A period formally ended. The CRs were pleased by this successful kick-off of the
Ronald Reagan Political Lectureship Series
for this academic year, and we wish to thank Steven Shapiro (OC '83) for his generous support.
Oberlin CRs Release Fall 2006 Lineup for Ronald Reagan Political Lectureship Series

On Friday, September 15, 2006, the Oberlin College Republicans released a lecture schedule for the Fall 2006 installments of the Ronald Reagan Political Lectureship Series.
The CRs will host three speakers this semester as part of the series: Patrick J. Michaels on October 5, William Kristol on November 2, and Kate Obenshain Griffin on November 15. Please click here to see more details about these lectures.
The CRs wish to thank Steven Shapiro (OC '83) for his generous support, without which this lecture series would not be possible.
Oberlin CRs Commemorate Fifth Anniversary of the 9/11 Terrorist Attacks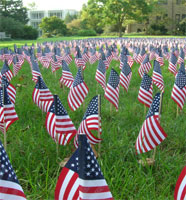 On Monday, September 11, 2006, the Oberlin College Republicans erected a memorial in Wilder Bowl to commemorate the terrorist attacks of September 11, 2001. The memorial included one small flag placed in the ground for each victim lost in the attacks. For those non-Americans killed, a flag of the victim's country of citizenship was used in place of the stars and stripes. A total of 2,997 of these small flags created an impressive sight in Wilder Bowl.
The memorial also included four larger flags to symbolize the four crash sites of hijacked passenger jets, and a Flag of Honor which listed the names of all those lost in the attacks.
The CRs thank all those students and community members who stopped at our memorial to reflect on the events of five years earlier. We would also like to thank our faculty advisor, Prof. Timothy Hall, and Young America's Foundation for their assistance in creating this memorial.
Ronald Reagan Political Lectureship Series Brings John Fund to Campus
On Tuesday, May 2, 2006, Mr. John Fund (Wall Street Journal) gave a lecture entitled, "Have Some Universities Lost All Common Sense?" This lecture was the second installment of the Ronald Reagan Political Lectureship Series, made possible by the generous support of Mr. Steven Shapiro (OC '83).
Mr. Fund spoke about one of the most important institutions in public life -- the university -- and outlined what he sees as a lack of inward scrutiny on the part of many institutions of higher learning, using Yale University as a "case study." Mr. Fund discussed that institution's decision to admit as a student a senior member of the former Taliban government of Afghanistan.
The CRs wish to thank everyone who helped out in organizing this event, as well as the students and community members who attended the lecture.
Oberlin CRs Team Up With Oberlin ACLU to Organize Debate on Capital Punishment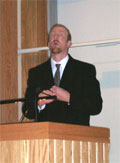 On Thursday, April 27, 2006, about 150 Oberlin students, faculty, and community members filled West Lecture Hall to see one of today's most contentious civic issues debated by two speakers brought to campus by the Oberlin College Republicans and by Oberlin College ACLU. The topic of the debate was capital punishment, and the participants on each side of the issue were attorneys with extensive knowledge of the criminal justice system generally, and of capital proceedings in particular.
Arguing against capital punishment, and invited by OCACLU, was Ms. Robin Kallman (OC '80), an attorney at the California State Public Defender's Office. Ms. Kallman represents individuals who have been sentenced to death in California on direct appeal and in related state habeas corpus proceedings.
Arguing in favor of capital punishment, and invited by the Oberlin College Republicans, was Mr. Matt Hellman, a Deputy Attorney General with the Capital Crimes Section of the Ohio Attorney General's Office. In this position, Mr. Hellman is assistant supervisor of eight attorneys who represent the state of Ohio in capital habeas corpus cases in federal district and circuit court.
The debate was a great success, and the CRs thank everyone who took the time to come to the event, to listen to our speakers, and to ask questions.
David Arredondo (Chairman, Lorain Area GOP) Gives Lecture on Republican Party's Legacy of Freedom and Civil Rights
On Wednesday, April 12, 2006, Mr. David Arredondo (Chairman, Lorain Area Republican Party) gave a lecture entitled, "The Republican Party: A History of Freedom and Civil Rights." Speaking to a group of about ten students, faculty, and community members, Mr. Arredondo described the GOP's legacy of liberty, from its beginnings as a small group of people devoted to putting an end to slavery, to today -- still the party of individual rights and personal responsibility.
More information...
Oberlin CRs Create New Policy Position On Iraq
On Wednesday, April 5, 2006, the Oberlin College Republicans voted unanimously to adopt a new official policy position on the War in Iraq. The text of the new position follows:

The CRs believe that success in Iraq is attainable, and that U.S. forces should remain on the ground until two main conditions are met. First, a strong and legitimate democratic government must be formed. Second, the day-to-day security situation must be left in the hands of a well-trained and adept Iraqi police force or military. In order for these goals to be met, civilian policymakers must direct the U.S. military to learn from its mistakes, and to adapt its operations to meet the challenges of the insurgent enemy. Emphasis must be placed on enabling the new Iraqi government, along with that nation's armed forces, to provide protection and basic services to ordinary citizens. The United States must provide the training and resources necessary to make these goals achievable. At home, policymakers charged with crafting America's strategy in the war must develop a comprehensive plan for success and, with it, the eventual withdrawal of U.S. combat forces from Iraq.
CRs Hold 'Support Our Troops' Donation Drive
For two weeks this March, from Monday 3/6 to Sunday 3/19, the Oberlin College Republicans held a donation drive in the city of Oberlin to collect a variety of items to be sent in care packages to U.S. troops stationed overseas -- mostly in Iraq and Afghanistan. The CRs organized the project in conjunction with the USO of Northern Ohio's ongoing care package program. Members of the Oberlin community were able to drop off donations at three local businesses (Gibson's, Ben Franklin, and Missler's). At the end of the drive, over two large boxes of items were picked up by the USO. The CRs thank everyone who took the time to make a small sacrifice for the troops.