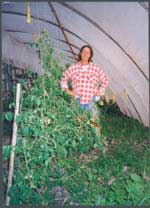 Local organic farmer Adele Straub utilizes her hoop greenhouse to extend the growing season.
"The ingredients traveled roughly 30,000 miles for one meal," says Masi, "and cost 6,000 calories of work energy to produce 600 of food energy." With these numbers in hand, the group asked the co-ops to look at what they could do to buy locally.
A farmer named Alfred Baumann was one of the first to benefit. "He still planted his farm, but he was older, in his 70s," says Masi, so students did his harvesting in return for a share of the produce.


Then, and today, farmers come to Oberlin and eat with students. Monies spent on local foods have increased from $12,000 to $25,000 (from a budget of $250,000), yet the process has stayed much the same. Today, says Kittredge, the ratio of local foods to wholesale has leveled off. "It's a scale that seems to be working for for us," she says."More farmers would be too many."

As for those eggs, we made the last two stops without catastrophe. But the wind picked up when we started home, and the cardboard boxes that were once folded and piled next to the eggs began hurtling from the back of the truck. I thought back to the food-pickers' meeting the Tuesday before.

"What happened to the eggs last week?"
"They, um, broke. There were a lot of bumps in the road."
"Don't stack them so high next time."

This time, we hadn't stacked the eggs very high, and when we arrived on campus, each was intact. The following Thursday, as a two-hour dinner cook for Pyle Inn Co-op, I used a number of those eggs in a delicious roasted-vegetable quiche. The eggs' journey from chicken coop to co-oper stomach had taken only six days and crossed 16 miles. It ended as all co-op meals end, with applause.
ADAM KOWIT is a junior.