Business Unusual
by CAROLYN HIRSCHMAN '84
Be it work or play, Tom McMakin '84 excels at the unconventional.
The Oberlin Review: Friday, March 2, 1984
"When the Review last left them in September, those heroic neo-natives Tom McMakin and Steve Morris were bracing for a feisty North Coast winter in their conical canvas dormitory. Some placed bets on how long they would last in their tipi. President S. Frederick Starr wagered a bottle of champagne that the cold would force them out before springtime."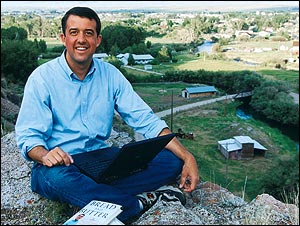 THE "TIPI EXPERIMENT," as it was dubbed by local media, had a serious purpose--the study of alternative living structures--and an esteemed sponsor--the Andrew W. Mellon Foundation. The resolute McMakin and Morris, armed with an $1,800 grant and a stack of firewood, vowed to spend their senior year at Oberlin sheltered in an 18-foot tipi just south of campus--gas heat not included.
McMakin then: "The tipi is educational because it gets other people to think about the comforts they have and that they shouldn't take them for granted."
And McMakin today? "We were nuts. We had an abiding sense of fun."
Seventeen years later, this nonconformist is still equally as drawn to the unconventional. Years of postcollege globe-trotting were marked by Peace Corps stints in Cameroon and Estonia, which sandwiched a harrowing bout of malaria in Africa. (He'd taken the 1,000-mile solo trek on a whim.) Back in the States, McMakin bounced through a medley of jobs: airline cargo loader in Boston, high school teacher in Vermont, and legislative aide to a Fairfax County, Virginia, politician.
"I wanted a taste of the world," he says. "I collected experiences like some people collect stamps." In the mid-'90s, then in his 30s, this self-described "seeker" had had enough. Enchanted by their Montana honeymoon a few years earlier, Tom and his wife, Mary, both jobless, loaded up their Jeep and moved to Big Sky country. "I love the outdoors and wanted to live somewhere rural. It was a beautiful place."
Lured by the promise of a 40-hour workweek and ample vacation time, the couple replied to a local help-wanted ad placed by the Great Harvest Bread Company. Beating hundreds of applicants for the jobs--Tom as newsletter editor, Mary as legal coordinator--they relocated to the company's headquarters in Dillon, a town of 7,685 with "more cows than people."
"I'd never heard of a company that bragged that its employees went home at 5:00, but I liked it," says McMakin, who grew to relish Great Harvest's unique corporate culture. It mattered little that he had no newsletter experience, no retail experience, and no bread-baking experience aside from an occasional loaf at Harkness Co-op. More important was his indoctrination into a company of soulmates. The wanderer had found a home.
He rose swiftly through the ranks to chief operating officer in 1997, and, this year again made headlines as the author of Bread and Butter, What a Bunch of Bakers Taught Me About Business and Happiness (St. Martin's Press), which he loaded with advice about building a people-friendly company.
Hailed by the press and corporate world as the best antidote to the recent bout of dot-com insanity, the book teaches readers how not to be slaves to their jobs. Affable and engaging, McMakin is likened in the Oberlin community to Ben & Jerry's co-founder Jerry Greenfield '73. Ben Cohen, Greenfield's former partner in the values-driven organization, described Bread and Butter as the "Zen and the Art of Motorcycle Maintenance for our age."
A $60-million franchiser of 138 bread bakeries nationwide, Great Harvest was founded in 1976 by Laura and Pete Wakeman, who early on instilled a culture of work-life balance. Words like freedom, entrepreneurial spirit, innovation, and community comprise its corporate vocabulary. "Be loose and have fun," reads Great Harvest's mission statement--a decidedly atypical approach.
The Wakemans sold the company in June, yet had run it for 25 years with a belief that personal happiness leads to business success. Work and home should be mutually reinforcing, not competitive forces. The key, says McMakin, is to examine yourself--to balance work with whatever else in life brings you happiness. In his case, the "whatever else" includes running, yoga, and meditation. "These are the things I return to when I find dysfunction in my life."
The company calls its stores "freedom franchises" and has few rules. Among them: local bakeries must mill their flour fresh every morning and buy wheat from approved quality vendors. Rejecting the cookie-cutter approach of dictating its stores' operations, Great Harvest's method of fostering independent franchises has garnered raves in the business press since Bread and Butter hit the stands. "I feel like we reinvented franchising--we took an old form and brought in new life," says McMakin, who slid easily into the unfettered mind-set.
Blame it on start-up fever. With Great Harvest's change of hands this summer, the wanderer is again yearning for change. With cash in hand from the sale of his minority share and a nagging desire to be his own boss, McMakin is in search once more of another values-driven business to call home.
He won't have long to wait. Longtime friends say McMakin has an innate leadership ability, which blossomed early at Oberlin with his presidency of the Student Cooperative Association (OSCA) his senior year. "Tom had remarkable administrative and people skills," says tipi-mate Stephen Morris, now a Manhattan attorney. "He was going to excel in any environment. It was just a question of how happy he would be."
Fellow OSCA-er Stephen Henry '84, now a San Francisco lawyer, says that McMakin excelled at building consensus--the democratic but often difficult decision-making process that defines the co-ops. "He was always an incredible leader. People warmed to him quickly."
McMakin lived and dined for three years at Harkness, foregoing meat in the process. The commitment to whole foods and diversity, he says, is what sparked his interest in alternative organizational forms. "All of my political sensibilities, my commitment to creating organizations marked by a generosity of spirit and contribution to community, my interest in things international--all of that came from Oberlin," he said during a stop in Maryland while on a national book promotion tour. "Oberlin was a wonderfully formative experience."
Today, McMakin has a new tipi and more tent-mates: Mary, and their two children, Valerie, 6, and Wilson, 1. Financially, it's a step forward--he bought it with royalties earned from 1999 Microsoft television commercials featuring Great Harvest. Spiritually, it's not so far from Tappan Square. *
Carolyn Hirschman is a freelance business writer in Rockville, Maryland.