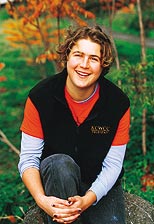 Educating the Trainer
Everything changed for Liz Guy '97 during the week of the WTO protests--beginning with her name. For several months, she had been considering renaming herself Sprout after an activist she had met years earlier. The new name she took in Seattle that week followed a major attitude shift that had been brewing for six months. Guy's commitment to social justice dates back to high school, when she first learned about the United States' intervention in Central America. Upon arriving at Oberlin as a double-degree student in 1993, she dove into activism, joining the LGBU and Third World Co-op, taking classes in women's studies and politics, and participating in workshops about how her race (white) and class (middle) affected her relationship to the issues she cared about. She eventually dropped her viola major, believing there was no way to integrate her political commitments into the life of a classical musician.

"I left Oberlin feeling a little unsure about how I personally could make a change," she says. At her nonprofit job in Seattle and with her volunteer work at a lesbian resource center, she felt equipped to identify and critique racism, sexism, and classism. But the action piece was still missing.

In the months leading up to the WTO demonstrations, Guy met seasoned activists who lived lives of political action. Inspired, she organized a neighborhood teach-in, planned a march, and spoke to people on the street about the protest's purpose.

The morning of November 30, Guy--now Sprout--was among the thousands of activists who formed human barricades to bar WTO delegates from the meetings. As the sun rose that chilly morning, an excited message began to crackle like electricity throughout downtown: Nobody was getting in. There were not enough delegates in the Convention Center to convene a session. The opening proceedings of the WTO meeting were delayed, delayed again, and finally cancelled.

Joy filled the streets. Anarchist marching bands pounded out jubilant tattoos on overturned plastic buckets as dreadlocked hippies swirled in blissful circles and joined the din with bongo drums and cowbells. Thousands of union members broke off from the official labor march and joined the street party. A few blocks away, police lobbed tear-gas canisters at the heads of seated protesters who chanted "No violence" until the clouds of smoke changed their shouts to cries of pain. But the tear gas, pepper spray, rubber bullets, and the five days Sprout would spend in jail wouldn't dim her excitement.

She now views that week as the first time she felt truly powerful as an activist. "I realized that this type of power really does exist," she says. "A sheer mass of people who are filling the air with their hearts and minds and who have a well thought- out plan can confront and halt the other type of power, the corporate-military-government-oppressive power."

Sprout was released from jail without charges and within a month was headed to Florida to attend a direct action workshop. She then rode with friends to Washington, D.C., where locals were planning protests against the upcoming World Bank and International Monetary Fund meetings, hoping for an east coast version of Seattle. Drawn in, Sprout organized a traveling protest-recruitment fair that combined panel discussions and nonviolence trainings with music and puppet shows. She brought her viola on the tour, for the first time uniting her social concerns and music. "On the day of the protest in D.C. a lot of people thanked me for coming to their town. That made me feel like it was really worth doing," she says.

Since then, her life has been a medley of traveling, training, music, and demonstrating. She has toured the country playing viola and leading workshops about white privilege and racism. She has taught climbing skills to activists in California and exercised those same skills in a banner-drop at the U.S. Army School of the Americas in Georgia--an action for which her repeat-offender cohort, Josh Raisler-Cohn, was sentenced to six months in a federal prison in Oregon.

Currently back in Seattle, where she gardens, fixes bicycles, and works with a collective of activists tackling race issues, Sprout hopes to stay put for a while. "It's important to talk locally about how social change can happen--building at the grassroots and talking about visions of taking back power," she says.