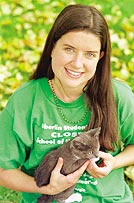 The Peace-Seekers
If Baranwal and Sprout developed theory before action, Jackie Downing '02 and Laurel Paget-Seekins '01 jumped into action first. Within Downing's first year of college and Paget-Seekins' second, they had already co-founded the Oberlin Peace Activists League and organized a group of students to attend a protest against the U.S. Army School of the Americas (SOA), a U.S.-run training academy for Latin American soldiers and military leaders at Fort Benning, Georgia. But it would be several years before they would realize how the foreign policies they protested could really hit home.

Since 1998, when the first organized Oberlin contingent at the annual SOA protest drew 40 students, the SOA has become a cause celebre on campus. The size of the Oberlin contingent nearly tripled in three years, numbering around 110 at its height in 2000. In the week between finals and graduation that year, nine Oberlin students protested by themselves on the steps of the SOA. And in 2001, a student completed a month-long juice fast at the gates of Fort Benning as a winter term project.

The SOA campaign is an easy sell on a campus like Oberlin's with no ROTC and a history of anti-militarism. For SOA critics, the issue's morality is relatively unambiguous. Records show that a large percentage of recent Latin American civilian massacres, plus assassinations of priests and human-rights leaders, involved SOA graduates, and that the school used training manuals that instructed students in torture, assassination, and the targeting of civilians. The anti-SOA campaign's nationwide constituency is diverse, representing indigenous people, Latino communities, and devout Catholics. The campaign is nationally coordinated with pre-arranged roles for student groups and a vast, stately demonstration each November.

The clear-cut, accessible SOA cause won the devotion of Downing and Paget-Seekins and spurred their further study of U.S. involvement in Latin America. By Downing's junior year, she felt that military aid going to Colombia to fight the drug war resembled the U.S.'s disastrous mid-1980s involvements in Central American affairs. Downing and Paget-Seekins, with four of their housemates, targeted the Sikorsky Aircraft Corp., a manufacturer of the helicopters used in Plan Colombia. Sikorsky had lobbied heavily in Congress for the Columbia contract and netted more than $200 million from the operation. In April 2001, the six Oberlin women entered Sikorsky headquarters in Connecticut and chained themselves to a pillar inside a conference room that was about to hold an opening reception.

For hours, the women talked politics with company vice presidents and conference-goers before unlocking themselves. When their case went to court last July, the "Oberlin Six" opted to defend themselves so they could discuss Plan Colombia in their testimonies. The group was found guilty and fined, but their stories landed prominent articles in The Washington Post and the The Boston Globe. "It was a success because we drew attention to the issues," says Paget-Seekins.

The activists, some of them in a courtroom for the first time, noticed that many of the cases before the judge involved young black and Latino men accused of nonviolent drug crimes. Many could not make bail; others accepted plea bar gains with one- or two-year jail sentences. "The other side of the war on drugs became clear to me that day," Paget-Seekins says. "It made me think about who's fighting for which issues and about who can afford to go to protests that might get them arrested. Here we are, white activists doing actions for the victims of the drug war in Latin America, and every day hundreds of youth of color here get sentenced to jail in the same war."