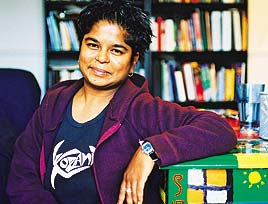 The Organizer
Grassroots movements are nothing new for Kirti Baranwal '98. While thousands of people demonstrate against international financial bodies that force cuts in social services overseas, Baranwal fights similar cutbacks in Los Angeles, starting with the middle-school classroom where she teaches math, science, and art. Some L.A. classrooms are crammed with 70 students, and many of Baranwal's pupils arrive late to school, having been bypassed by two or three overstuffed public buses in their low-income neighborhoods.

Anti-corporate globalization activists talk at length about needing to build local, community-based movements, but Baranwal has been at it for years. Environmental studies classes at Oberlin taught her the history of environmental racism and that it can devastate working-class communities of color; they didn't cover the practicalities of how citizens could fight the placement of polluting industries in their neighborhoods.

Her interest was not only academic; it was rooted in her upbringing and identity. "As an Asian American woman from a working-class background who had the privilege to get to college, it was very important for me to ask, 'How do I put my skills to work, changing the material conditions for people in working-class communities of color?'" she says.

She eventually found some answers at Oberlin, where Eric Mann, director of the Labor-Community Strategy Center (LCSC) in Los Angeles, spoke once about the multiracial coalitions he had worked with to fight environmental racism and transportation inequities--all with an underlying analysis of how institutional power works across the board.

As Mann spoke, Baranwal's future materialized. "I was floored," she says. She took a leave of absence from Oberlin and spent seven months at the LCSC's School for Organizing, where she studied a philosophy of community organizing that emphasizes thoughtful strategy in combination with action. "You have to have a theory about how to change things," she says. "It's not just about feeling good about yourself. The goal is to see if we can build a multiracial, antiracist, social movement that can really win things."

Returning to Oberlin with a new focus and purpose, she joined Third World Co-op and moved into Third World House, where she later served as an RC. She brought speakers to campus and worked on building a sense of community for students of color and from low-income backgrounds.

After graduating, she moved back to L.A. to work with the Bus Riders Union, the flagship project of the LCSC. The organization was on a roll, having recently celebrated a high-profile victory against the Los Angeles Mass Transit Authority. A federal judge had ordered the MTA to reduce overcrowding on the buses, implement reduced-fare passes, and introduce less-polluting natural gas buses onto the fleet. The MTA would appeal the decision several times over the next five years, but the Bus Riders Union, employing a mix of legal avenues and street action, repeatedly came out on top.

As a full-time organizer, Baranwal was an exception among her college friends. Many of the Obies she knew from Third World House and Co-op had graduated under onerous loads of debt and had moved home with their parents. For them, the life of an organizer, with its 60-hour weeks and minimum-wage salary, was not an option. Other alumni, including those from low-income backgrounds, preferred taking their activist skills and resources back to their hometowns.

After two years as a staff organizer with the Bus Riders Union, Baranwal switched to teaching middle school. She organizes after-hours with the Coalition for Education Justice, a group of L.A. teachers, parents, and students pushing for smaller class sizes, bilingual education, and an end to high-stakes testing and police presence at schools. And she still loves the way a skillful organizer, armed with compassion and good theory, can use a single issue to get people talking about how institutional racism operates, how to challenge government and business leaders, and how the civil rights struggles of the past 50 years are all interconnected.

"Fundamentally, my organizing is a work of love," she says. "It helps me acknowledge how much beauty and strength there are within communities of color and the working class. It gives me peace in a world where there is violence in many forms. And, in this society, which creates very negative and horrible things, it helps me to create beautiful things."