Three Biologists Follow the Path Less Traveled
by Doug McInnis '70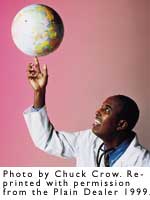 Oberlin College science graduates--a group which includes three Nobel laureates--have among them the rich and famous. Particularly in the biological sciences, graduates of earlier years tended to become doctors, college professors, or industry researchers. That's still true. But many biologists have left the well-traveled path. Recent graduates include a genetic counselor, an assistant coroner, a nurse-midwife, a horse breeder, an herbal educator/spiritual counselor, an acupuncturist, a lead poisoning prevention coordinator, and a student of Chinese medicine. It seems there's a lot you can do with a biology degree.
For those who choose the beaten path, the options are far more complicated than a few decades ago. Geneticists already have transformed our food supply and may soon do the same with our bodies. Computer science is turning to DNA as a potential replacement for silicon to power future generations of computers. Biologists are trying learn how herbal remedies, which pack the shelves of health-food stores, react with prescription medicines. Astrobiology, the science of alien life forms, is on the front burner at NASA. And researchers are trying to untangle the intricate relationship between our minds, our bodies, and our health. Society also needs biologists to help fill the demand for administrators, civil servants, and lawyers. They will regulate these emerging fields and mediate the disputes that arise as we tackle the sticky legal and ethical wickets of cloning, fetal tissue research, organ replacement, and instances of 21st-century technology gone awry.
After English, biology is the most popular major at Oberlin. And the likelihood is that there will be work for all of these graduates, says Roger Laushman, professor of biology and a specialist in plant population genetics. "We really are now in what can be called the age of biology," he said. "Now we can do the kinds of things in biology that before we could only dream of."
Here, we offer a glimpse into the diverse lives of three biology graduates whose careers--or the paths leading to them--are, if nothing else, unconventional. Two of the three were born into science. Kristin Williams '83, the daughter of an industrial chemist, paints birds for a living. Mike Heithaus '95, the son of two Kenyon College biology professors, handles half-ton tiger sharks in his research off the Australian coast. The third, Said Ibrahim '87, followed a less traditional route into the sciences but opted for a more traditional career--he is a doctor in Cleveland. The son of a police officer, Ibrahim traces his interest in medicine to his youth in Somalia as he watched World Health Organization doctors treat his family. "I was fascinated by their power and the respect they received from the community," he recalls. "I dreamed of becoming a doctor."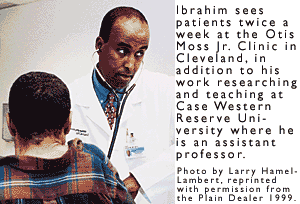 SAID IBRAHIM '87
For most students, the way into Oberlin College begins with an application. In Said Ibrahim's case, it began with a bribe. The money greased his way out of Somalia, bought a black-market passport, and paid airport security to look the other way while he slipped aboard a flight from the East African nation. Repressive Somalia frowned on emigration, especially when the would-be emigrant was a member of the national basketball team.
Oberlin is a well-known name for most applicants. Ibrahim, on the other hand, had never heard of the small Ohio college. He came to the Midwest in 1984 to play Division I basketball at Cleveland State University and to get an American education. The day after his arrival, his plans turned to dust. After a disappointing tryout, Cleveland State's coach revoked Ibrahim's scholarship offer and instead presented him with a one-way ticket back to the country he had just escaped. Devastated, Ibrahim refused. He left campus and found himself in the ranks of Cleveland's homeless, wandering down Euclid Avenue with $30 in his pocket. "I learned very quickly that $30 doesn't go very far in America," he recalls. "I had lunch, which took about $12."
From then on he survived on his wits and the kindness of strangers. "I didn't know anybody in Cleveland," he says. "I didn't know anybody in the United States." Knowing that he probably faced a jail cell if he returned to Somalia, Ibrahim looked for help, turning first to the immigration office, then to legal aid, where he met an African-born lawyer named Mohamed Chambas. The lawyer agreed to put him up while Ibrahim sorted out his life. Beyond food and board, Chambas also suggested Ibrahim look into Oberlin, where Chambas doubled as a government instructor.
He applied to the college, the first applicant ever from Somalia, but was rejected, with a suggestion that he first prove himself academically at a community college. Ibrahim agreed. There was a problem, however. His student visa barred him from working anywhere but the college he was attending, and he had no money for tuition.
Ibrahim turned to the Cleveland Plain Dealer, hoping a news story on his dealings with Cleveland State would shame the university into helping him. The story landed on the front page. Cleveland State ignored him, but two strangers, a couple who had just returned from teaching at the National University of Somalia, read the article and paid Ibrahim's tuition at Cuyahoga Community College.
Still penniless, Ibrahim needed a place to live. A Cleveland dentist heard of his plight and offered him a room in an old Euclid Avenue mansion that he kept for parties and professional gatherings. Again, there was a snag. The mansion was heated only to about 50 degrees, high enough to keep pipes from freezing but frigid by Somalian standards.
With no money to turn up the heat, Ibrahim avoided the mansion, using it only as a place to sleep. Instead, he holed up in the East Cleveland Library or rode Cleveland's Rapid Transit back and forth between East Cleveland and the airport. Both offered a place to study for the straight-A student, and they had heat. His meals consisted of spaghetti, spaghetti, and more spaghetti, a diet punctuated by leftovers from the dentist's weekend parties. It was slim pickings by American standards, but he wasn't homeless, and it beat a Somali jail cell.
After a year, Oberlin came through with a full academic scholarship and a place on its basketball team for the six-foot, eight-inch center. During basketball season, Ibrahim crawled from his dormitory bed at 4:30 a.m. to his job washing dishes at Dascomb's cafeteria. From 8:30 a.m. to 4:30 p.m. he was in class. From 4:30 to 7 p.m., it was basketball, then on to the library, where he studied until 1 a.m. "Except for the weekend, that was my life at Oberlin," he says. He couldn't have been happier.
The endless hours of work won Ibrahim admission to Case Western Reserve University's medical school, where he was the first Somali to graduate. He married Oberlin classmate Lee Erickson '86, a family practice physician, and today has two young children. His time is split between Cleveland's Veteran's Administration Medical Center, where he practices internal medicine, and his teaching position at CWRU's medical school.
Ibrahim's life still takes place within a few miles of the stretch of Euclid Avenue he once walked with $30 in his pocket and nowhere to live. But he is now an American citizen, no longer homeless, and will most likely never again worry about his next meal.