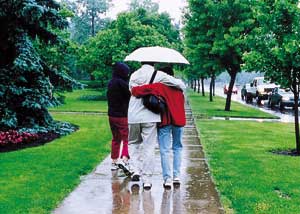 Reunions here are a bit like visiting an Oberlin theme park as opposed to the actual, in-session College. I adopt all my former trappings of student life---no sleep, too much food, not enough water---but only for 48 hours. I wear sneakers and carry a backpack, stroll from North Quad through Tappan Square to town, then head over to Mudd to check my e-mail, and back to Burton where I'm staying. I'm always amazed how easily I slip into this life, how comfortable I feel. Walking into the 15th Reunion Headquarters in Barrows, I felt I had never left--as though the set of experiences I've come to think of as my adult life were a dream.
Indeed, there have been times in my post-Oberlin life when the simplicity and assurances of college seem ideal: no high-stress job, no mortgage or car payments, no inklings of that "real world" students used to discuss with a mixture of scorn and dread. As a creative writing major, I had the time to read, write, think, and reflect. I learned to pay attention to the world, to notice the stars and the Ohio landscape and the voices of the people around me. These are the things I still value, that drive my professional work and my creative life. Revisiting their origins feels something like a pilgrimage, a welcome attempt to reconnect with whatever I felt at Oberlin, whatever started me down the path that I'm still following.
During the weekend there were many references to Oberlin's mission of "changing the world." Not as in "Oberlin students can change the world", but "Oberlin students must change the world." The graduating class, fueled by copious amounts of idealism and (I'm guessing here) the dark roast coffee that has invaded town, was responsible for some of this rhetoric, which coincided with the opening of a Barnes and Noble in the Co-Op's former space. But alumni also got into the act, with a few publicly pledging to "bring down" the capitalist system they believe is grossly unfair.
Certainly activism has always been part of the Oberlin experience. While I generally supported the cause, in the vague, go-along-to get-along sense that 19- and 20-year-olds do many things, I wasn't willing to build shanties on Wilder Bowl or occupy campus buildings.
There's a difference between working for change and appointing yourself a standard bearer. To me, that says, "We're better than everyone else." As these students will ultimately find out, they can't stamp every situation with an Oberlin seal of approval. What we can do is crusade for fairness, ethics, and compassion in life, and in dealings with others.
If there's an unstated Oberlin "mission," perhaps it's to offer help or guidance or knowledge to others. Whether or not I change the world, Oberlin changed me for the better. Almost 15 years later, I still feel a common bond with the place, a common sense of decency. That, to me, is what makes our institution great, regardless of whether we speak out, act up, or fulfill a mission only in our own lives.
Ira D. Shull is author of For the Love of Teaching: And Other Reasons Teachers Do What They Do. He lives in Shirley, Massachusetts, with his wife, Anne Parker Shull '87.