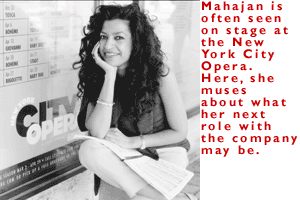 If you ever really want to know how to get to Carnegie Hall, just ask Indira Mahajan '88. Sure, she can spin you toward 57th Street and point out the prestigious building. But last year, Mahajan '88 stood on that legendary stage herself and made her own debut with the Gay Men's Chorus. Belting out Christmas carols, she logged one more success in a steady stream of successes that continues to boost her currency as one of opera's rising sopranos.
Mahajan, who flirted with becoming a voice major and then abandoned the idea to pursue African-American Studies, still managed to take lessons at the Conservatory. But it wasn't until after graduation that she pursued her training fulltime at the New School's Mannes College of Music in New York and the Academia Musicale Ottorino Respighi in Italy. Today, she sings principal roles with the New York City Opera and appears frequently with other companies, nationally and internationally.
In the five years since completing a master's degree in music, Mahajan's racked up several meaty roles: Susanna in The Marriage of Figaro, Musetta in La Boheme, Moppet in Paul Bunyan (on roller skates), the title roles in The Cunning Little Vixen, Handel's Esther and Suor Angelica, and, most recently, Clara in the New York Philharmonic's concert performance of Porgy and Bess with Bobby McFerrin at the helm.

With Mahajan between rehearsals for her next big debut--Lucia, the mad murderess in Lucia di Lammermoor--for New York's DiCapo Opera, we met at a café near her Upper West Side apartment, where, over salads, she shared her strategies for reeling in the big roles.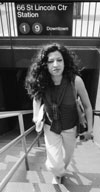 Oberlin Alumni Magazine:
What's the first thing you do when you land a new role?
Indira Mahajan: I listen to the entire opera and get inspiration from the music. Then I translate it. Most of the stuff I'm doing now is in Italian.
OAM: Do you speak Italian?
IM: I'd love to be fluent in that language, but I'm not yet. That's why picking up the nuance of the language was very helpful--it brings the role to life onstage.
OAM: What's the next step?
IM: I begin learning the most difficult parts of the music. In Lucia, there's the mad scene--a huge solo scene, maybe 18 minutes or so long, where she goes insane at the end. [After Lucia is forced for political reasons to marry a man she doesn't love, she murders her husband on their wedding night.] I think about the character and the motive of every scene she's in. Lucia is a role I've always wanted to do. I've always liked the music, and the role is a great showcase for a soprano. But it's technically challenging, and requires stamina, because the most challenging aspect of the role comes at the very end of the opera. That's why I'm happy my first Lucia is in a safe place, in a small house.
After I learn the music, I "straightjacket"--that's when you learn the music as written by the composer with no ornamentation. Once I'm secure with the music, then I add ornaments and cadenzas to be interpolated in specific parts of the arias. You don't want to be a carbon copy of someone else, which is very easy to do because there are such great recordings of the singers who've done these roles. You try to find your own voice with roles that everyone else has done, that everyone is familiar with.
OAM:
Where does the dramatic motivation come in?
IM: Many characters in opera are loosely based on classic works of literature, so I go directly to the source. I also watch movies set during the period that corresponds to the period of the opera--Dangerous Liaisons and Amadeus both give a sense of the social customs and style of the culture, for instance--the way you hold your hands when you're sitting, or how you pick up your dress when you're walking. Things we're just not used to in our jeans culture.
OAM: Where else do you find inspiration?
IM: I have a library of operas by directors like Franco Zefferelli. And there are singers whom I really admire, like Maria Callas or Terese Stratas. They may not always have the most beautiful voices, but they bring something uniquely beautiful to the role.
OAM: You had a year to prepare for the role of Susannah in the Virginia Opera's Marriage of Figaro. Because you've been on the road performing, how much time do you have to get ready for Lucia?
IM:
I didn't have a lot of time to work on this piece, so this is where experience is important because I know exactly where to focus. It can be overwhelming to look at a score in its entirety, so I use what I call the "divide and conquer" tactic. I divide the score by acts and scenes and conquer a little more every day based on how much time I have. It's about time management, especially if you're learning on the go. My first year working professionally was my busiest year, learning new roles while singing other roles. Over the years I've learned not to work harder, but smarter.
OAM: Is the preparation process any different when you're learning a role for New York City Opera compared with a smaller company like DiCapo?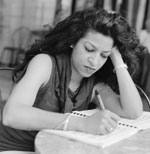 IM: When you're working on the level of New York City Opera, they help prepare you. You have music coaches who will go over your role with you at least three times a week before the show goes up. I do the same preparation whether I'm with a small company or a big one, but experience has taught me how to prepare on my own. Smaller companies don't have the resources to coach you, so you've got to come in with your music learned. You're expected to be off book by the first day of rehearsal and have a working knowledge of the score.
OAM: Who helps you polish a role?
IM: It really does take a village. I work with my mother, who is also an opera singer. The older I grow, the more I appreciate her style, which is slow and methodical. I have a voice teacher, as well, Pat Misslin. And a musical coach or conductor, who helps make sure I'm learning the music right. There's nothing worse than learning it wrong because that can be very difficult to undo. I'm also working on Lucia with singers who have done the role before. That's an oral tradition. They pass on their gems, things they've discovered about this character, to the next generation.
OAM: You're so tiny. Do people ever wonder how you manage these big roles?
IM: People are always surprised about the volume I can produce because they equate making a big sound with a big body. It's not about that. It's about strength, endurance, and learning to sing in your body. You don't have to be big---you have to be strong. I do yoga, about 15 minutes a day. It's really good for breathing, and that's what singing is all about.
OAM: Does much of your practice focus on singing?
IM:
I practice every day, but I don't sing for hours at a time. The more secure you are with your vocal technique, the less stressful it is to learn a new role.
OAM: Of course, all the preparation in the world won't insulate you from the surprises of performing live in a theater. What's the most shocking thing that has ever happened to you on stage?
IM: I've made every major mistake possible. In The Marriage of Figaro, I was supposed to jump into Figaro's arms. He'd twirl me around, and then we'd land on the bed and begin the scene. One time, as we landed, the bed collapsed. My dress was stuck underneath. We couldn't move, and we started laughing. The audience had stopped applauding, the harpsichord was rolling to begin the dialogue, and we couldn't stop. Then the audience joined in, and they were laughing at us and with us, and applauding. We had to stop the show for three minutes-- a long time.
I've also walked out of my shoes, fallen, tripped, forgotten words, run out of breath at the end of a phrase--my mouth is open but there's nothing coming out. When you make mistakes like these, you improve, because you've got to find your way and you've got to improvise. You've just got to go with it.
OAM:
What's most rewarding about putting a role together?
IM: It's always a labor of love for me. I really enjoy the preparation, and sometimes the preparation is more rewarding than the actual outcome. I find that I've learned the most about my voice and what it can do through this process.
Lucia di Lammermoor was performed April 8-May 14 in New York City and throughout New England.
Norine Dworkin is a New York City writer and editor.