If you think about it, Bob Wood '37 started his career as a graphic designer at Oberlin. He just didn't know it at the time.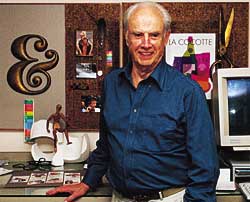 As layout editor of the 1936 Hi-O-Hi, Bob, an art history major, arranged its pages in an artful, dynamic manner, tilting and overlapping photos and adding dozens of his own lively illustrations of college life. A critical eye can see in these pages the seeds of a style that Bob employs to this day as designer of the Swarthmore College Bulletin and the dozens of ads, posters, and invitations that he has created for Kendal at Longwood, the Quaker-tinged retirement community where he lives with his wife of 60 years, Mary deSchweinitz Wood '36.
Relaxing in his den at Kendal, he recalls 1936 as if it were yesterday. That was the year LIFE magazine was launched, and Bob still has the copy of Vol. I, No. 1, that he reserved at the local drug store. It was through the influence of that new magazine, plus a binge of photographic exploration during a trip to Mexico City that summer, that he found his professional niche.
After college, Bob studied commercial art at New York's Pratt Institute. He's glad he didn't go to art school right out of high school. The advertising world was changing, and Oberlin's liberal arts education gave him an advantage over his fellow students at Pratt. "It was a time when ads were beginning to emphasize ideas rather than just a bunch of words illustrated by a pretty picture of the product," says Bob. "That played right into my hand. I was four years older, and though I didn't know a lot about any one thing, I knew a little about a lot of things."
In 1945, Bob joined Al Paul Lefton, an established ad agency in Philadelphia. "They paid me for my ideas," he says. Many made it onto the ad pages of magazines and newspapers, but some of his favorites, he says, were beyond clients such as the Pennsylvania Railroad, John Wanamaker's, and the Philadelphia Inquirer.
The morning Inquirer was then in second place behind the afternoon Philadelphia Bulletin, whose famous ad campaign had a single slogan: "In Philadelphia, nearly everyone reads the Bulletin." Bob's proposed rejoinder: "In Philadelphia, nearly everyone heeds the Inquirer." The client didn't get it, but plenty of Bob's other ideas were successful, and he was soon promoted to art director, leading a youth movement in the agency.
About 1960, Bob left the agency in favor of freelance work for corporate clients including Provident National Bank, the DuPont Company, and others in the Philadelphia area. With corporate customers providing his bread and butter, he began looking for new clients with whom he could stretch intellectually. Having lived since 1947 in the Philadelphia suburb of Swarthmore, about 1970 he approached Swarthmore College, seeking a chance to design its alumni magazine.
"I was an average student at Oberlin," he says, "but I'm a natural student now. I'm interested in a broad range of things and I like the college atmosphere." Swarthmore did hire him to do its magazine, and over the next two decades he became the college's principal designer, turning out everything from fundraising brochures to a 150-page history of the institution.
Like most artists, Bob holds strong opinions about his craft: "I avoid decorating pages; I think design should be simple." Recent trends in graphic design seem cluttered by the excesses of desktop publishing: "Just because you have 12 different fonts on your computer doesn't mean you have to use them all." He admits to being puzzled by the italic "r" in the new Oberlin magazine logo.
This year, after designing more than 110 issues of the award-winning Swarthmore magazine, Bob, who just turned 86, will gradually withdraw from the deadline-oriented world of magazine design. It ties him down too much, he says. "There are too many other things I want to do with my time."
In a corner of Bob's three-room apartment is a Macintosh computer rig that would be the envy of most college students. Using Photoshop and Illustrator, two powerful graphics programs, he scans and manipulates drawings and photographs, adding words, churning out new ideas. "Look at this," he says, clicking his mouse. "Isn't it marvelous what you can do with pictures these days?"
Jeffrey Lott is the director of publications at Swarthmore and editor of the Swarthmore College Bulletin.