Marshall Scholar Scores Musical Success
Conservatory senior transforms an archaic art form into a modern musical drama.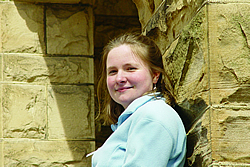 Marshall Scholarship winner Mary Larew '05, producer and director of Ludus Danielis
photo by Yvonne Gay Fowler
Imagine standing in a European cathedral, where a crowd has gathered to celebrate the "Feast of Fools" and watch a performance of the musical Ludus Danielis. As lords and ladies jostle for position among the peasants, the performers begin their slow march toward the altar—solemnly intoning the praises of Daniel, the play's main character, while waving aloft brightly colored glass bottles.
Oberlin's Root Room is no medieval cathedral, but the reenactment there of this 13th-century musical drama in January transported audience members to another place and time. Featuring seven Obie musicians and 22 vocalists, the play was produced and directed by senior composition major Mary Larew, who credits Oberlin for nurturing her experimentation with such a difficult musical genre.
"Ludus Danielis (The Play of Daniel) was a challenge to me as a director," she says. "Not only are the melodies memorable and lovely, but the play is full of humor and mystery, with plot and character devices that are practically modern."
Larew, who graduates in May, belongs to an elite group of students awarded one of the highest accolades a U.S. undergraduate can earn: Great Britain's Marshall Scholarship, which covers two years of graduate study in the United Kingdom. The fourth Oberlin student to win the Marshall since 1990, Larew plans to pursue an MA in vocal studies at York University, focusing on ensemble singing.
Her interest in medieval music began at Oberlin with a concert by the Collegium Musicum. The all-student vocal ensemble, directed by Professor of Musicology Steven Plank, specializes in Renaissance and early baroque music. Larew joined the group and eagerly threw herself into the study and performance of medieval melodies.
"Few students come to collegiate study with an interest in early music; it's typically an area that one discovers in college," says Plank. "Mary is unique, however, in the accelerated pace at which her interests and abilities in this field have blossomed."
In addition to directing Ludus Danielis, Larew composed instrumental interludes and supplied vocalists with instructions for multiple voice parts—thus creating harmonies that were never a part of the original score. She was also diligent in studying the performance conventions of 13th-century music dramas.
"I'm not out to become an authority on Ludus Danielis," she says. "I'm more interested in staging a creative, informed production."
Local Obies weren't the only audience members held captive. After encouragement from Dean of Conservatory David Stull '90, Larew took the production on the road, holding performances at churches in Cleveland and Boston. "Boston has a thriving early music scene, which made it a wonderful place to stage Ludus Danielis," Larew says. "I hope our touring experience will inspire other students to create their own projects and take them on the road. It's a great way to get real-life experience and network with alumni."
Vivian Montgomery, music director at First Parish Unitarian Church in Boston, helped promote the show's debut in Needham. "Quite a few people came to the show because of their Oberlin connections, but many regular members of our congregation attended, too. The singing, the beautiful staging, and the high drama of the performance entranced everyone. People loved it."
On campus, Larew is cofounder of Uncloistered, an a cappella, early-music quintet specializing in Renaissance poly-phony. She has recorded with the 15th-century music ensemble Ciaramella and studied with a British a cappella vocal ensemble, the Tallis Scholars, at its summer school in England.
"Directing these early music dramas combines almost everything I love into one career," she says. "It allows me to work closely with other musicians and actors, interpreting beautiful music and bringing small pieces of history to life for modern audiences."

---
DC Alums Predict More Tough Times for Dems
by Douglass Dowty '05
Holly Fechner '85 in
Washington, DC
With journalists predicting political mayhem and environmentalists quoting Winston Churchill, Oberlin alumni are sending a unified message: President Bush's second term will bring tough battles for the nation.
Fifty alumni and winter-term students came together at the National Press Club in Washington for "The State of Our Nation: Oberlin Perspectives." The panel discussion, a reprise of the post-presidential election event held four years ago, featured alumni with diverse—and vociferous—views on the political prospects during the next four years.
"It's going to be unvarnished partisanship and an all-out war on the rhetorical level," said Michael Doyle '78, a reporter with McClatchy Press. "There will be no honeymoon this second term."
"The overriding power of Congress is being usurped by the courts in favor of states' rights, a trend that will be championed by any nominees Bush gets confirmed to the Supreme Court," added Bill Robinson '63, a civil rights activist and founder of the District of Columbia School of Law. "Republicans have launched a 'constitutional counter-revolution' over the past decade."
Holly Fechner '85, primary adviser to Massachusetts Senator Edward Kennedy on issues ranging from the economy to civil rights, criticized the Bush administration for undercutting protections in the workplace, placing the burden of the economy on workers and families by encouraging profits over jobs, and taxing wages, not wealth. "The idea that you can work full time in the United States and still live in poverty should be very troubling to all of us," she said.
Greg Pinelo '91, creative director of GMMB advertising and public relations in DC, pinned much of the blame for the Democrats' losses in November on the party itself. "People hear the word Democrat and think: liberal, soft, feminine, marriage, pro-wage, pro-tax, weak on defense and terrorism. There has to be a real effort to re-brand the party and appeal to America's moderate majority."
Environmental Defense senior attorney Karen Florini '79 described Bush's environmental policies as "between bad and awful." But Florini was not discouraged, citing Winston Churchill's rallying cry before Parliament in World War II: "We shall fight on the beaches. We shall fight on the landing grounds. We shall fight in the fields, and in the streets, we shall fight in the hills. We shall never surrender!"
Spectators were intrigued by the common mission that unified the otherwise diverse group of Washington Obies. "Here in DC, you hear so many talking heads; it was interesting to get an unvarnished perspective," said Regional Alumni Coordinator Andrew Harrison '02, an international trade specialist at the U.S. Department of Commerce.
"I'm glad that students got to hear from alums. At Oberlin, you sort of live in an echo chamber, hearing the same things over and over again. I hope the students will take back what they've heard and add some fresh insights to the discussions taking place on campus."

Next Page >>