---
---
Martin Luther King, Jr. at Oberlin
---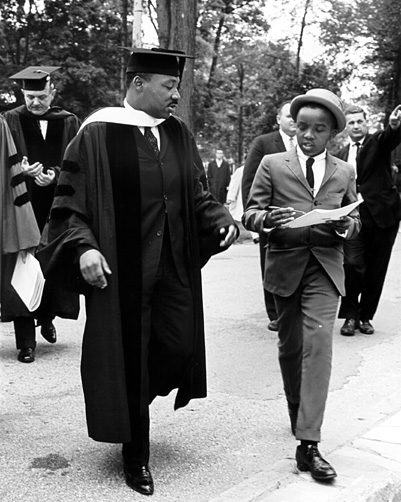 (Oberlin College Archives)
Commencement 1965: Rev. Dr. King stops to sign an autograph.
"All I'm saying is simply this: that all mankind is tied together; all life is interrelated, and we are all caught in an inescapable network of mutuality, tied in a single garment of identity. Whatever affects one directly, affects all indirectly. For some strange reason I can never be what I ought to be until you are what you ought to be. And you can never be what I ought to be until I am what I ought to be - this is the interrelated structure of reality."
---

Note on the use of photographs:
The photographic images provided by the Oberlin College Archives for the EOG demonstration project may not be downloaded by users except for educational use in the Oberlin School District classrooms. When these users or others seek to use the photographs in a brochure, scholarly article or book, or in any other publication, they must accept responsibility for compliance with all copyright and other legal requirements applicable to reproduction thereof. Permission for reproduction must be sought from the Oberlin College Archives, 420 Mudd Center, Oberlin, Ohio, 44074.
---

Click here to return to the homepage of "The Rev. Dr. Martin Luther King, Jr., at Oberlin".
---
---