---
---
The Reverend Dr. Martin Luther King, Jr. at Oberlin
---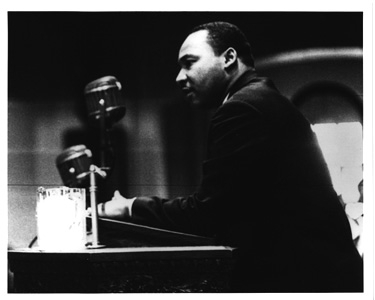 (Oberlin College Archives)
Rev. Dr. Martin Luther King, Jr., Assembly Speaker 1963-64
---

Rev. Dr. King's 1965 Commencement Address:
---

Presentation of Honorary Degree of Doctor of Humane Letters to Rev. Dr. King by J. Milton Yinger, Professor of Sociology and Anthropology (1965)
---
"Continuing the Struggle for Racial Justice - King's Visits to Oberlin"
The Reverend Dr. Martin Luther King Jr. made several visits to Oberlin during the Civil Rights Movement. King's first official visit to Oberlin, in February of 1957, was just a couple months after he and the Montgomery Improvement Association successfully ended their 381-day bus boycott. It was during this historic boycott that King began to make a name for himself as a leader in the movement. Oberlin was fortunate to have Dr. King speak not once, but three times, during his visit. Speaking on the topics "Justice Without Violence" and "The New Negro in the South" at the First Church of Oberlin and on "The Montgomery Story" during a noon assembly at Finney Chapel, Dr. King enlightened the college and town communities as to the nature of the growing Civil Rights Movement. Dr. King's constant activism was proving to be quite a surprise to his Dexter Avenue Baptist Church congregation in Montgomery, who had appointed him in hopes that he would be less radical than their former pastor, Oberlin graduate Vernon Johns.
In what was planned to be a bumper crop year for Oberlin in terms of lectures on Civil Rights, Dr. King was invited to speak at Oberlin in November 14, 1963. He was in good company, both Roy Wilkins of the NAACP and Malcolm X of the Black Muslims were scheduled to speak at Oberlin that November. But at Oberlin, as throughout America during the '60's, few things seemed to go according to plan.
King caught the flu before his visit, but came to Oberlin anyway, despite his doctor's advice to the contrary. Upon arrival, King discovered he was indeed too sick to speak, and apologized to the attentive Finney Chapel crowd. The brevity of the two-minute speech was only highlighted by the three-minute standing ovation Dr. King was given after Oberlin's President Robert Carr's introduction.
A little over a week later, on November 22, 1963, President John F. Kennedy was assassinated in Dallas. Malcolm X was scheduled to speak at Oberlin on the following day. He cancelled.

King's next visit to Oberlin was much more successful. In his second public appearance after winning the Nobel Peace Prize, Oberlin welcomed King again on October 22, 1964. His speech on "The Future of Integration" was heard by an estimated 2,500 students, faculty, and visitors. Finney Chapel was filled to capacity as soon as the doors opened, but WOBC broadcast the speech over the radio to Hall Auditorium as well as a meeting room in Kettering Hall of Science.

"The time is always right to do what's right," King told Oberlin students. He was obviously concerned about the upcoming election. In what was a bloody year in American history, with riots in at least six American cities and the murder of three civil rights worders in Mississippi, King's words were painfully significant: "It is true that behavior cannot be legislated, and legislation cannot make you love me, but legislation can restrain you from lynching me, and I think that is kind of important."
Commencement 1965. At the height of the Civil Rights Movement, Rev. Dr. Martin Luther King, Jr., was awarded an honorary degree of humane letters by Oberlin College. His commencement address, "Remaining Awake Through a Revolution", was one that the class of '65 would not soon forget. It would be his last formal address at Oberlin before his untimely death in 1968. King was introduced by Sociology professor J. Milton Yinger who had been involved in civil rights activism at Oberlin for many years. King's commencement address, like many of his speeches, speaks of the importance of taking action in the form of non-violent resistance. But Oberlin's involvement in and commitment to the Civil Rights movement was clear to King, so he took the opportunity on the morning of June 14th to issue a challenge to the Oberlin graduates to remain committed to justice as they started their careers. King expected nothing less from the graduates of a college that "has probably done more than any other [college] to support the struggle for racial justice."
For more information about the Rev. Dr. Martin Luther King, please check out these links:
---

Note on the use of photographs:
The photographic images provided by the Oberlin College Archives for the EOG demonstration project may not be downloaded by users except for educational use in the Oberlin School District classrooms. When these users or others seek to use the photographs in a brochure, scholarly article or book, or in any other publication, they must accept responsibility for compliance with all copyright and other legal requirements applicable to reproduction thereof. Permission for reproduction must be sought from the Oberlin College Archives, 420 Mudd Center, Oberlin, Ohio, 44074.
---

Click here to return to the homepage of "African American Leaders: Oberlin Connections".
---
---