---
---
Baldwin Cottage
South Professor, 1886-7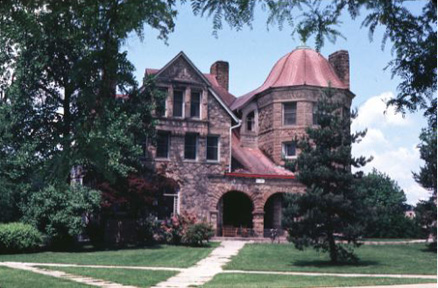 The construction of Baldwin Cottage, a small-dorm complement to stately Talcott which rose more or less simultaneously next door, began soon after the 1886 fire which destroyed the Second Ladies Hall. It was named for Elbert Baldwin, a Cleveland dry goods merchant from whom Adelia Field Johnston, Oberlin's leading woman administrator, extracted a gift of $20,000.
The village paper announced that Baldwin would be done "in the Queen Anne style, with broken roof lines, with the effect of earlier colonial houses" -- language suggesting that wonderfully elastic range of "Queen Anne". Weary and Kramer's design reached for the informal intimacy of a cottage look through variety in massing, texture, and detail. As the walls went up, their odd geometric patterns reminded one observer of an alligator's hide. The studied unexpectedness of Baldwin's shapes -- its squat tower, its low double-arched entry porch, the broad and gentle slopes of its roof lines, the episodic placement of its windows and dormers -- made it a local triumph in the art of organic irregularity popularized by Henry Hobson Richardson.
The roofing material, a warm red diamond-shaped tile (which has sadly faded over time), introduced a theme that would govern the campus building projects for the next 45 years. Here as elsewhere red tile lent a pleasing unity to the completed structure. Dark, rich woodwork helped carry a friendly "nook-and-cranny" mood through the interior, making Baldwin one of the most durably popular living places on the campus.
(Blodgett 6-7)
For information about Baldwin Cottage within the context of Oberlin College architecture, please click here.
---

Click here to return to the main page of "Historic Preservation in Oberlin".
---
---