---
---
Talcott Hall
2 South Professor, 1886-7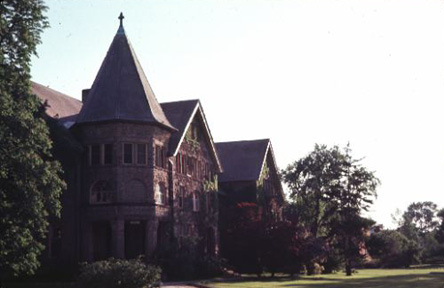 On this site originally stood the Second Ladies Hall, a three-story brick dormitory of Italianate design built during the Civil War. When in burned in January 1886, the college first planned to rebuild it using the bricks of the burnt-out shell. But New York City donor James Talcott wanted a modern stone building. Akron architects Weary and Kramer worked through four sets of plans to get the new hall just right. The result was impressive -- a multi-gabled ashlar sandstone structure whose proud porch tower fronting the square is the dominating feature. The round-arched second story of the porch was originally open to the weather, a pleasant place for evening serenades. The broad frieze wrapping around the upper surface of the tower below its conical roof is repeated across the gabled east and north walls. Lavish vine and floral carving in this trieze lends a delicate counterpoint to the rough texture of Talcott's exterior.
The interior introduced a new grace to Oberlin dorm life. Rooms were large, well ventilated, and varied in shape. The woodwork had a warm and natural finish. In the big first-floor parlors hardwood floors with figured rugs gave a fresh look of open dignity. For decades to come Talcott and her cottage neighbor Baldwin would underwrite official college efforts to impose refinement on campus social life. In light of Talcott's long record as a testing ground for coeducational decorum, its cryptic cornerstone has inspired many a grin.
(Blodgett 5)
For information about Talcott Hall within the context of Oberlin College architecture, please click here.
---

Click here to return to the main page of "Historic Preservation in Oberlin".
---
---