---
---
Burrell-King House
317 East College, 1852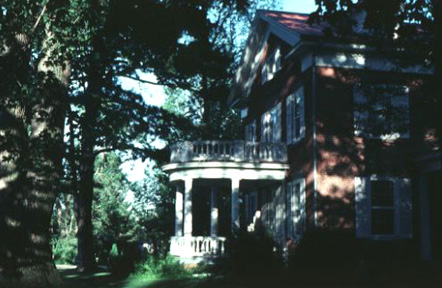 This house has always stood apart in a class by itself. It was built in 1852 some distance from its neighbors as a sort of town seat for Jabez Lyman Burrell, who raised fine beef cattle on the surrounding acres. A native of western Massachusetts, a disciple of John Jay Shipherd, and a charter member of the college board of trustees, Deacon Burrell enjoyed substantial wealth and influence. He was an active anti-slavery man, and in 1868 he gave $10,000 for a freedmen's school in Selma, Alabama. Later he deeded valuable coal fields in Illinois to the college. In 1882 he added the gift of his house and land on East College Street. The college in turn sold the house four years later to young Henry Churchill King, who became Oberlin's president in 1902.
In Burrell's time the house was a brick cube in the Greek Revival mode, with a large extension to the rear added some time after the original construction. The attic rafters are still held in place by mortise -and-tenon joints locked with wooden pegs. The King family added the elegant porches and porte cochere, and modernized the interior, giving the place a neo-Georgian cast. It made a splendid center for the official social life of the college during King's long presidency from 1902 to 1927.
In 1974 the house was acquired by the Nordson Foundation, which built the day care center behind it. The house is on the National Register.
(Blodgett 65)
---

Click here to return to the main page of "Historic Preservation in Oberlin".

---

---