---
---
Wack-Dietz House
43 East Vine, 1847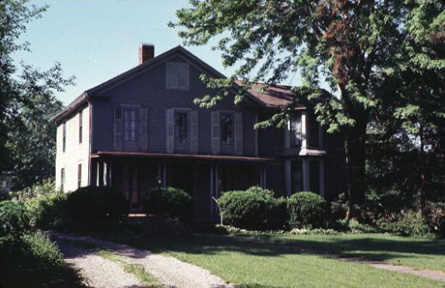 The main section of this frame house, built in 1847, derives from the Greek Revival, as indicated by the returns at the eaves of the gable facing the street. The west wing, with its Italianate bay, is a later addition.
Chauncey Wack, Oberlin's nineteenth-century anti-hero, lived here. A native of Bennington, Vermont, Wack arrived in the village at age 24 in 1840. Over the next half-century, whatever Oberlin cherished, Wack normally opposed. For a long time he ran a rather disreputable hotel on the east side of South Main Street near the railroad depot. Among his overnight guests were the slave catchers who provoked the Wellington Rescue of 1858, a succesful Oberlin effort to save fugitive John Price from being returned to slavery by way of Wellington, ten miles to the south. At the trial of the rescuers for violating the Fugitive Slave Law of 1850, Wack was a star witness for the prosecution.
Another boarder at his hotel in those days was Stephen Dorsey, a mobile young man from Vermont who married Wack's daughter Helen in 1865. Dorsey went on to achieve wealth and notoriety as a spectacularly corrupt U.S. senator from Arkansas in the 1870s. It was during Dorsey's service in Washington that Wack retired from the hotel business and moved into this house with daughter Helen. Meanwhile he had emerged as Oberlin's staunchest Democrat and was in the habit of hovering about the polls on election day to challenge blacks who tried to vote. Despite an overwhelming local Republican majority, he served a term or two on the village council, and when Grover Cleveland became president in 1885, Oberlin's 126 Democrats unanimously voted to make Wack the local postmaster. To their dismay, Cleveland chose another man.
A few years after Wack's death in 1900, the house became the home of the Dietz family, which moved from New York City when Father Peter Dietz, a prominent "labor priest," took charge of Oberlin's fledgling Catholic parish. An advanced spokesman of Catholic trade unionist thought, Father Dietz remained in Oberlin from 1906 to 1912 when he left for Milwaukee and a wider field. His parents and sisters stayed on in their Oberlin home, a place of complex local memories.
(Blodgett 63-64)
---

Click here to return to the main page of "Historic Preservation in Oberlin".
---
---