---
---
Jewett House
73 South Professor, 1883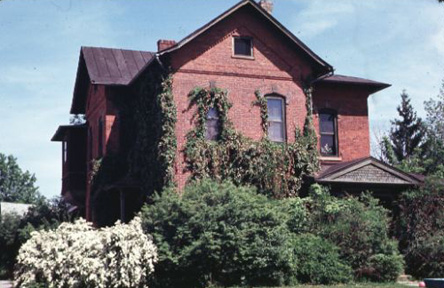 Frank Fanning Jewett, the famous Oberlin chemistry professor, lived here for 40 years. The house was begun for Rev. Reuben Hatch, who sold it unfinished to Jewett in 1884. Jewett belonged to a new breed of Oberlin scholars. He was a university-trained professional who had studied at Yale, Harvard, and in Germany, and taught briefly at the Imperial Univeristy in Tokyo before joining the Oberlin faculty in 1880. His expert discipline proved fruitful to many an Oberlin undergraduate, including Charles Martin Hall, who worked under Jewett's guidance in the years leading up to his discovery of the electrolytic process for making aluminum. Mrs. Jewett (Frances Gulick Jewett), the daughter of Christian missionaries, authored several books on personal and community hygiene.
The Jewett house is similar to many which went up about town in the 1880s -- lean, asymmetrical, and angular, marking a transition from the Italianate to the Queen Anne style. Subtle details like the gently flared gable roof, the triangular indentation in the brick-work of the gables, and the curved window moldings, relieve a rather stern exterior. The stained-glass window lighting the stair landing on the south wall is a particular delight. In 1891 the veranda was added, in the popular stick style of the day.
The inside of the house, rich in figured oak woodwork, was kept pretty much intact by the Hubbard family which lived here for 40 years following Jewett's death in 1926. The house is now maintained by the Oberlin Historical and Improvement Organization, and was placed on the National Register in 1979.
(Blodgett 126-27)
Please visit the Oberlin Historical and Improvement Organization's tour information page for tour information about Jewett House and the organization's other historic sites.
---

Click here to return to the main page of "Historic Preservation in Oberlin".
---
---