---
---
Johnson House
216 South Professor, 1885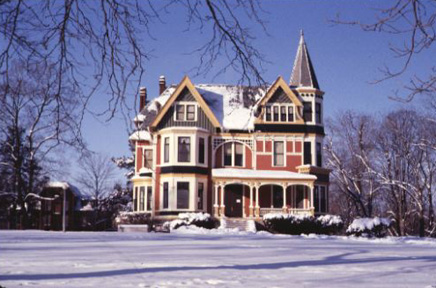 The Johnson family gave Oberlin its most spectacular link with the flamboyant world of nineteenth-century capitalism. The patriarch of the clan, I.M. Johnson, was president of the first national bank of Oberlin and lived on East College Street in the big house later known as Cranford (destroyed in 1971) until he retired to the California coast in 1878. One of his sons, Edward, was a longtime village clothing merchant. Another was Albert H. Johnson, who worked as cashier in his father's bank and then as owner of the Oberlin gasworks before becoming president of the Arkansas Midland Railroad.
In the early 1880s Albert Johnson bought the old Dascomb property and several acres around it on South Professor. He then moved the Dascomb house across the street, and asked Cleveland architect George Horatio Smith to plan a suitable home for him on the rise above Plum Creek. Smith, who would co-design the Cleveland Arcade five years later, was already well known for his service to the housing needs of the Euclid Avenue elite. His Oberlin response was Johnson House, completed in 1885, the instant showpiece of the town, a domestic Peters Hall.
With Johnson House the Queen Anne enthusiasm, imported from England by way of the 1876 Philadelphia Centennial Exposition, hit Oberlin in full force. A vast pile of irregular shapes, and surfaces enclosing 24 rooms, the house was a lavish personal display exploiting the architectural possibilities opened up by wealth and central heating. Complexity of form -- tower, turret, gables, and bays -- is reinforced by the grand profusion of detail in surface textures, mounting in intensity as the eye rises across the panelled gables and molded cornices to the patterned tiles of roof and tower.
The impact satisfied. Pride of achievement was evident in every line: the Johnsons had made it. Albert H. Johnson enjoyed his house for 14 years. He was killed in a train wreck in Colorado in 1899. Charles Martin Hall bought the place in 1911 and gave it to the college. It was used for the Oberlin Academy till 1916, and for a college dormitory since.
In 1981 preservationist Steven McQuillin, a recent Oberlin graduate, arranged a period repainting of the house which brought back to it some of the passing glory it had enjoyed ten decades before.
(Blodgett 129-130)
---

Click here to return to the main page of "Historic Preservation in Oberlin".
---
---