---
---
Mallory House
58 East College, 1837, 1932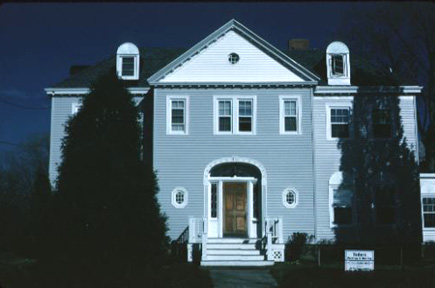 The site of one of the oldest dwellings in the village, this gracious house has undergone many remodellings and bears little resemblance to the original. The rough-hewn log beams in the basement are probably the oldest thing about it. William Ingersoll, a great-grandson of the theologian Jonathan Edwards, arrived in 1837 from Lee, Massachusetts, and moved into a house already built on this spot, then near the eastern edge of town. The Ingersoll family lived here until 1853 when they sold to Alanson Spooner and moved two blocks east on College. Shoe dealer Benjamin Locke, who bought the place from Spooner, drastically altered and expanded it in 1867. In 1879 he added a fancy crenalated wooden tower to the front facade. Toward the end of the century Locke became proprieter of Park House, the old Oberlin Inn. After his death his home began its long career as a college boarding hall.
In 1932 Mary Pope Mallory had the house completely remodelled by Oberlin architect William B. Durand. Durand restyled the place to give it a look reminiscent of the Federal era. He dismantled Locke's crenelated tower, introduced the present pedimented pavilion with recessed doorway, and repeated the round arch of the fanlight in decorative moldings over the first-floor windows and in the dormers piercing the hip roof. The remodelling later earned the house inclusion in a standard architectural survey of the Western Reserve as one of the fine early homes of Oberlin -- an unwitting tribute to the subtlety of Durand's work for Mrs. Mallory. She ran a boardinghouse until 1947 when the college purchased the building from her estate. Despite a somewhat offhanded application of wide-clapboard aluminum siding in 1970, Mallory remains among the better looking buildings in downtown Oberlin.
(Blodgett 195-196)
---

Click here to return to the main page of "Historic Preservation in Oberlin".
---
---