---
---
Warner Gymnasium
(now Warner Center) 30 North Professor, 1899-1901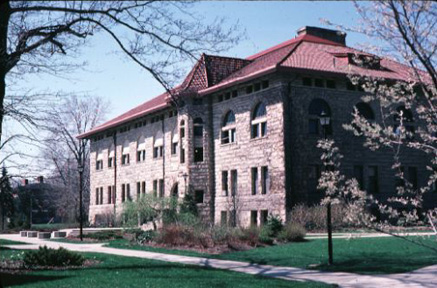 In 1893 the worst depression of the nineteenth century interrupted the college's intensive building drive. When prosperity returned and the drive resumed at century's end, a subtle shift in architectural taste could be detected in the next wave of construction. Ashlar sandstone remained the characteristic building material, but the new structures moved beyond the bulging complexities of Peters, Baldwin, and Talcott to establish a calmer mood. The restless vertical thrust of the 1880s yielded to more rectilinear and horizontal forms. Warner Gymnasium was the main signal for the shift. Not everyone in Oberlin approved. Chicago architect Normand Patton, Warner's architect and a protagonist of the new aesthetic, had to explain it. "Architectural design in this country has made great strides within the last few years," he wrote, "and in no direction has the improvement been more marked than that of suppressing the height, not for the purpose of making a building look low, but because within the proper limits, a suppression of the height magnifies the breadth, and it is that which gives dignity to a building."
Warner opened in 1901, and the northern section was completed in 1912. The gym was named for its donor, Dr. Lucien Warner, an Oberlin graduate who after practicing medicine in New York City went on to a lucrative career in women's corsetry and spread its dollars on his alma mater. Fred Leonard, the pioneering director of men's physical education, worked closely with Patton to define the facility. The most successful interior components were the big playing spaces on the second floor. Their wood surfaces were hung to give a uniform spring, a trait which 70 years later helped clinch Warner's recycling from gymnastics and basketball to dance.
In 1905, at the outset of his long connection with the college, architect Cass Gilbert decided that Warner was the best of Oberlin's existing buildings and adapted its quiet, round-arched style in his subsequent designs for the campus. The gym itself narrowly survived plans for removal in 1920 and again in 1970. Despite an awkward location, its rugged utility has been hard to deny. In 1983 grounds manager Edward Thompson created a badly needed landscape for the building (renamed Warner Center), punctuated by a concrete dance platform and benches whose octagonal shapes echo the bay in Warner's facade.
(Blodgett 8-9)
For information about Warner Center within the context of Oberlin College architecture, please click here.
---

Click here to return to the main page of "Historic Preservation in Oberlin".
---
---